Anheuser-Busch InBev merges with SAB Miller, to now make a third of the world's beer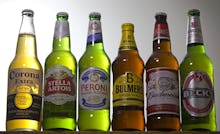 Next National Drink Beer Day, it'll be easy for people around the world to raise a glass of ... the exact same brew. 
That's because Anheuser-Busch — the company that makes Budweiser, Corona and a handful of other mass-market beers — has finally gotten approval to merge with SABMiller, the company behind Coors, in a deal that's been nearly a year in the making.
It'll be the largest beer company in the world by far, and control about a third of the global beer market. 
But don't worry, your cheap beer is probably safe. 
The companies have spent the better part of the last year selling assets and assuring regulators across the world and in the United States that the deal won't create a lack of competition for consumers. 
As a result of the sales and concessions, Anheuser's market share in the United States will actually remain unchanged at 45%.
A major allure for Anheuser-Busch was SABMiller's presence in Latin America, Africa and China, the latter country being where SABMiller owns the brand Snow — the world's best-selling beer in terms of volume.
The deal has raised some concerns among craft brewers, who worry they will now have a harder time expanding their operations abroad: The new monster company's international reach will give it a leg up.
Americans are also drinking less beer than they used to, one reason big brewers are focusing on customers abroad. 
"A huge strategy with this deal is that [Anheuser-Busch] InBev really wants to be in pole position in Africa," beverages analyst Jonny Forsyth told CNBC, pointing out that Nigeria's population will equal that of the U.S. by 2050. 
Really, craft brewers have bigger problems to worry about at home: Beer drinkers now choose from double the number of brewers as they did five years ago, making competition for hops incredibly fierce.
So show support for your favorite craft brew by popping a bottle — and toasting to a long life full of beer innovation.