'RuPaul's Drag Race All Stars 2' recap: Alaska makes a baffling choice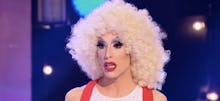 After what will go down as one of RuPaul's Drag Race's best episodes ever — one that broke ratings records for Logo, brought back fan favorites Alyssa Edwards and Tatianna and sent season villain Phi Phi O'Hara out the door — All Stars 2 was bound to dip in quality this week. But some suspicious judging and a nonsensical elimination makes this a frustrating installment to watch.
This episode, the remaining six queens are challenged to come up with a product that befits their brands, film a commercial to sell it, then hit the runway in a pants-focused look. Since this is the first time in weeks that the queens are performing solo, let's take the opportunity and score their performances for ourselves.
Each queen gets three scores from one to 10: for their product, for the ad, and for their runway. Those three numbers are averaged to get each queen's overall performance score. (Ties are broken by comparing the ads, since the commercial did seem to be the focal point of the challenge.)
Who deserved her high marks? Which queen should have been in the bottom two? Let's run them down.
1. Katya
Product: 6
Stella got her groove back! Katya's the clear winner this week, with the best ad (perfectly Katya in every weird way) for an odd product (a can of spray?). It's funny that the reward for winning is having the winning queens' product sold, because the anti-anxiety spray is nonsense. Her ad is doing all the work for her — which is good, since it's her best work since her Björk impression. She manages to make the mundane, like handing off a chicken, cackle-worthy.
Katya's runway is also fire. It may be the most capital-F Fashion garment she's worn in her two seasons. And when she describes it as "pissed-off Ellen Barkin fantasy," it becomes not just stunning, but hilarious. Katya's the real deal when she's focused. She's underwhelmed a lot of this season, but her performance this week is a reminder of what a force she can be.
2. Alyssa Edwards
Product: 7
Alyssa Edwards could sell water to an aquarium and she'd get them to buy out her stock. Alyssa is perfection, and yet she is almost certainly not going to win this season. That will be simultaneously understandable and tragic.
Simply put, Alyssa isn't really working on the level that this show expects queens to work on. Alaska's doing that; her challenge performances have been precise and impressive. Watching Alyssa work is pure joy, from the way she dances across the green screen when recording her ad to the final product, which is a nonsensical hodgepodge of Americana and motion graphic effects. It's a complete mess, but it's also incredible.
This is what Phi Phi didn't get when she criticized the way the judges treat Alyssa. To Phi Phi, Alyssa was getting a pass for sloppy work because the judges like her. In truth, the judges like her because she makes sloppy work beautiful. Her runway this week, as always, is absurd, described by judge Todrick Hall as "if Cruella DeVille went all the way black." 
Matched with her ad, she looks like a crazed business tycoon — and that's basically what she is. Look at the face she makes when Ru says the judges will be spending the deliberation period "skeet-shooting":
That's just a freeze frame of her face, and it's the funniest thing in this recap. Alyssa Edwards is the kind of court jester Drag Race is never going to crown — and that's a shame. Because of all the queens left, Alyssa is the clear, obvious choice for America's next drag superstar.
3. Tatianna
Product: 5
Tatianna hits the bottom two this week, which is nigh unbelievable after her runway presentation. She does a salute to T-Boz from TLC, complete with on-point hair, killer look and the dance moves to match. It is one of the best looks of the season, presented with flair and style.
Sure, Tati's product is pretty lame — a custom tea set for when you want to spill tea — but there are worse products, and her ad is funny. She gets critiqued for not featuring the product enough, but other ads fell victim to the same problem. She didn't deserve the win, but her bottom placement is silly.
4. Alaska
Product: 6
Alaska has been nothing short of incredible all season, approaching every challenge with what she describes this week as "laser-precise focus." She's deserved every one of her wins in the previous episodes.
Then there's this episode. Look, Alaska is very funny, and her ad is about half as funny as she is — which is still pretty damn hilarious! But watching Tatianna get knocked for not properly presenting her product when Alaska barely sells the usefulness of her duct tape is frustrating. Not only that, but Alaska's look in the ad is (unintentionally, one would assume) giving too much boy.
Her runway is also not her best. The pants are great, but the top and hair feel like afterthoughts. Alaska is probably marching to an overall win this season, and she'll deserve it for weeks of stellar work. But this was not her week, and she did not deserve her top-two placement.
5. Roxxxy Andrews
Product: 7
Time for Roxxxy to go. It's just indefensible at this point that she's still around. No queen in Drag Race herstory has survived four weeks in the bottom in one season and still not been sent home. 
In a way, her performance this week doesn't really matter. Her ad for her wig tricks DVD isn't the worst, but it's definitely worse than Tatianna's. Her runway is unusually basic for her, but it's not terrible. Under whatever criteria Alaska used — cumulative performance throughout the season, just performance this week — it should have been Roxxxy headed out the door.
6. Detox
Product: 3
Hey, Season Five Alyssa Edwards, what do you think of the judges' decision that Detox wasn't in the bottom two?
Yes indeed, it's garbage. Also garbage: Detox's product, both literally and figuratively. The trash-talking trash receptacle is poorly made, as guest judge Graham Norton notes, and the ad is just as shoddy. Could she not figure out how to move the mouth without using her hand visibly within the frame?
Her runway, which Detox calls a nod to Thierry Mugler, is decent. Detox has been this season's fashion queen, but she set the standard during the third episode's future of drag runway. By comparison, this looks fine at best.
Detox has been a consistently great performer this season — her Lydia Ladybits character from the comedy challenge last week was a standout — but there's no doubt this is her worst week of the competition. It's baffling that she passes through into the safe group.
But pass she does, and Tatianna and Roxxxy hit the bottom two. Alaska and Katya are named the top two — in a bizarre repeat of this season's Snatch Game episode, the top and bottom two are the exact same. That time around, Alaska won the lip sync and sent Tatianna home.
Much as her win this week bugs, Alaska is the clear victor in the lip sync once again. For as strong a lip-syncer as Katya is, she has a really poor record on this show — she's only won one lip sync, against season seven cannon fodder Sasha Belle. Katya loses focus a bit when performing, and even her gymnastic tricks can't save her as Alaska turns up the quirk factor and throws down on Joan Jett and the Blackhearts' "Cherry Bomb."
It's worth noting, after her third lip-sync win, that Alaska's got a really unusual style. Usually, queens on this show stick to themselves, not really interacting with the other performer on-stage beyond pointing. In all three of her lip syncs this season, Alaska has interacted physically with her opponent — not harmfully, of course, but enough to throw the other off their game. This week, she goes as far as licking Katya. It's an interesting strategy — and one that's clearly working, earning her $30,000 so far.
In the end, Alaska sends home Tatianna. It's tough to swallow, considering Roxxxy is still in after four weeks of underperforming and Tatianna's return last week was such a triumph. Not only that, but Alaska has insisted repeatedly since the season began that she has no connection to her former clique Rolaskatox — made up of herself, Roxxxy and Detox. Detox even insists "Rolaskatox is not in effect" earlier in this episode. So why has Alaska now refused to send Roxxxy home three separate times? 
There's only one episode left until the finale, and if one of these queens doesn't send Roxxxy home, it will put a damper on what has otherwise been a terrific season. All Stars 2 has lifted up the best of the best — and sadly, as of now, Roxxxy no longer fits into that category.
The next episode of RuPaul's Drag Race All Stars 2 will air Thursday at 8 p.m. on Logo and VH1.