Tim Kaine's wife, family, bio, age and other facts about Hillary Clinton's running mate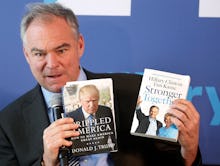 Voters become attracted to a candidate for different reasons. A record as a public housing attorney and an ability to speak Spanish may attract some supporters. A mixed history on LGBTQ rights may repel others. And some voters may simply be attracted to the way a candidate looked 30 years ago. 
In Tim Kaine, Hillary Clinton chose a vice presidential nominee with a long record in Democratic politics. He also has a working-class background and a history of working with diverse groups of people. 
With Kaine set to debate Republican vice presidential nominee Mike Pence on Tuesday, here are some important things to know about the senator and former governor from Virginia.
Kaine is 58 years old.
He grew up in Kansas. Born in Minnesota, he moved south where his father ran a union iron-working shop in the Kansas City railroad stockyard. "My two brothers and I pitched in to work during summers and weekends, and ya know, that's how small family businesses do it," Kaine said in July in his acceptance speech at the Democratic National Convention. 
Anne Holton and Kaine have been married since 1984. Holton met Kaine in the early 1980s while they were studying at Harvard Law School. "She picked him out. She lassoed him in," said Linwood Holton, Anne's father and a Republican governor of Virginia in the 1970s. 
Linwood says Donald Trump is a "fool" and adamantly supports the ticket that includes his son-in-law.
In the urban neighborhoods of Richmond, Virginia, Kaine found his passion. Kaine and Holton moved to Virginia in the 1980s, and he began a career as an equal-housing lawyer. Kaine sued landlords and companies that he alleged did not fairly offer housing to minorities, specifically African-Americans. 
Kaine's housing expertise was especially relevant when allegations of unfair treatment of black tenants by Trump and his father resurfaced. He attacked Trump over a federal lawsuit from the 1970s that said blacks who applied for housing at Trump-owned buildings were labeled "colored" and rejected.
Kaine was a city councilman and mayor in Richmond. He went on to become governor and was elected as a senator in 2012.
Kaine's time in local and state government faced challenges. The former capital of the Confederacy, Richmond's tense racial past confronted Kaine during his time as a councilman and mayor. And during Kaine's gubernatorial term, a shooter killed 32 people at Virginia Tech University in 2007.
He speaks Spanish. In 1980, Kaine left Harvard to volunteer as a Catholic missionary in the Honduras at 22 years old. The experience was deeply formative for his Catholic faith. 
Kaine's ability to speak Spanish is something that was touted early on the campaign trail. But some Latinos argued because a white candidate speaks Spanish does not mean Hispanic voters should support him. 
His views on LGBTQ rights has evolved, just like Clinton. While Kaine has backed equal rights for gay couples for more than a decade, he did not support same-sex marriage until 2013 — the same year Clinton announced her support for gay marriage. Kaine's Catholic viewers were at odds with the pro-choice and pro-gay marriage views of many other Democrats. 
"I believe in the legal equality of relationships," Kaine said a year earlier in the Washington Post. "The debate about, you know, is it marriage? Is it civil union? Is it domestic partnership? I just kind of let that one go and say should committed couples be treated the same by law, and I think the answer is yes."
Kaine and his wife made more than $311,000 in 2015. They donated more than $20,000 to charity and paid an effective tax rate of 25.6%.
The internet loves young father Kaine. Pictures of Kaine in the 1980s and early 1990s surfaced on Twitter after Clinton chose him as his running mate. No more explanation is required. (But if you want more, check this out.)
So why is Kaine the Democratic vice presidential pick? Kaine had been up for vice presidential consideration before. Barack Obama considered Kaine in 2008 before settling on Joe Biden. 
From a political standpoint, Kaine is solid. He survived multiple competitive elections in Virginia, a state that has traditionally gone red, has executive and legislative experience at all levels of government. He sits on the Senate Foreign Relations, Budget and Armed Services committees. And he was chairman of the Democratic National Committee between 2009 and 2011. 
And it helped that Bill Clinton reportedly liked him.
Mic has ongoing presidential coverage. Please follow our main election hub as well as coverage of Donald Trump and Hillary Clinton.