Mike Pence's wife, voting record, age and other facts about Donald Trump's running mate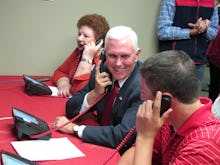 Though Mike Pence's views on social issues are stridently conservative, his personality is anything but strident.
Unlike some bombastic leaders of the conservative right, Pence has made a point of not swearing, being polite and staying calm through his political career. He smiles and laughs, even when it seems like he shouldn't. And no matter how heated a debate gets, Pence is known for staying cool-headed. 
That is in contrast with the rhetoric of some other staunch conservatives. Yet Pence's support among evangelicals and conservatives was a key reason Donald Trump chose him. 
As Pence and Tim Kaine prepare for their vice presidential debate on Tuesday, here are several things to know about the longtime Republican. 
Pence is 57 years old. He is a lifelong Indiana resident. 
He is a lifelong conservative. In the early 1990s, after two failed congressional bids, Pence became head of an Indiana free-market think tank. Before he was elected to Congress in 2000, Pence hosted a conservative radio show. During his time in the House, Pence was head of the Republican Study Committee, a group of the most conservative members of the body. 
Pence's credibility across the GOP was a key reason Trump tapped him for vice president. While New Jersey Gov. Chris Christie and former House Speaker Newt Gingrich were in the running, Pence brought popularity with the Republican base that Trump badly needed after the primaries. 
He has an anti-LGBTQ political history. In 2006, during his time in the U.S. House, Pence said same-sex marriage was a signal of "societal collapse." He also opposed a 2007 law that would have prohibited discrimination of Americans at work based on sexual orientation and the repeal of Don't Ask, Don't Tell. 
As governor of Indiana, Pence famously attracted attention for his support of a law that many argued legalized discrimination against LGBTQ citizens. 
Pence likes to describe himself with catchy phrases. Pence has called himself "a Christian, a conservative and a Republican, in that order." When he hosted his talk show in the 1990s, he called himself "Rush Limbaugh on decaf." 
Perhaps his most descriptive one-liner? "I'm a conservative. But I'm not angry about it," Pence said of his demeanor — a statement echoed by his Republican supporters.
Karen Pence has been married to Mike since 1985. They met in college, where she helped Pence convert to a born-again Christian. "He was raised Catholic and idolized JFK," the Indianapolis Star reported. 
Pence has really white hair. Something funny happened when Pence recently got a haircut at a black barbershop in Pennsylvania. 
Mic has ongoing presidential coverage. Please follow our main election hub as well as coverage of Donald Trump and Hillary Clinton.