Derrick Rose's lawyers plan to slut shame the woman who accused him of rape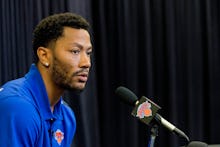 Derrick Rose's attorneys have seemingly settled on their preferred line of defense for clearing their client of the rape accusations tendered against him. It appears to be this: destroy Jane Doe's credibility by playing up her sexual history. 
The NBA player's legal team filed court documents on Wednesday in which it hinted at its intention — in the words of ThinkProgress — to "viciously slut shame" the victim if she pursues the case, which is currently scheduled to go to trial Oct. 4. 
The motion, obtained by ThinkProgress, reads in part:
In open and public courtrooms, the 30-year-old Ms. Doe does need to recognize that if she and her lawyers are going to sue and ask for millions of dollars, by presenting herself as someone with a loss of consortium claim, she has opened the door to a cross-examination that is better left avoided.
Ignoring a recent warning from the judge, the defense's cryptically suggested that the victim will come to regret portraying herself as "conservative," "prudish" and "shy," Think Progress reported.
During a Sept. 19 hearing, U.S. District Judge Michael Fitzgerald ruled that the victim, who has so far gone by Jane Doe, cannot remain anonymous at trial, clarifying at the same time that his decision was not an invitation for Rose to drag Doe's sexual history before the jury. He cautioned that sanctions will follow if "Defendant Rose continues to utilize language that shames and blames the victims of rape either in his motion practice or before the jury." According to ThinkProgress, Fitzgerald ordered:
The Court notes that it is extremely displeased by Defendant Rose's renewed implication that evidence Plaintiff was "sexually adventurous with [Defendant] Rose" and drank alcohol with Defendant Rose on the night in question in any way affects whether Plaintiff consented to group sex with Defendants Rose, Allen and Hampton later that night. 
Victim blaming and victim shaming have been popular defense tactics since the civil suit was filed in Aug. 2015. In it, she alleged that Rose — along with two of his friends, Randall Hampton and Ryan Allen — drugged her while they were drinking at Rose's house, then later broke into her apartment and raped her while she was passed out. 
The alleged assault occurred in Aug. 2013. 
Doe has argued that keeping her identity private is necessary, both to shield her family from the news and to keep the victim label from affecting every aspect of her life. She has also emphasized that she is a reserved person unused to the scrutiny she's received since accusing Rose. 
Meanwhile, Rose's lawyers argued in Wednesday's motion that the victim's "lifestyle" was more "advanced, aggressive and experienced" than she's now letting on:
This declaration is not the right place to provide detailed revelations concerning Ms. Doe's actual lifestyle and sexual experience level, both before and after August 27, 2013. Suffice it to say that Ms. Doe is three years older than Mr. Rose, Mr. Allen and Mr. Hampton, who were 24 years old at the time, and her lifestyle was far more advanced, aggressive and experienced than she appears to want to now present. This sort of factual information, if affirmatively put at issue by Ms. Doe, is the sort of theory that Ms. Doe could and should avoid, because it goes to her credibility.
But as Fitzgerald stressed, the victim's sexual history isn't relevant to the case at hand. 
In an August interview discussing the Nate Parker rape trial — during which much was made of a consensual encounter between Parker and the victim one day before he allegedly assaulted her — former sex crimes federal prosecutor Shanlon Wu explained that consent is non-transferrable.
"Prior consent can't possibly be construed as consent for all future events," he said.