Amy Schumer is Intel Security's "most dangerous celebrity"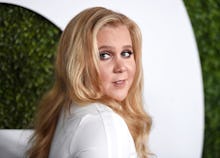 Listen up, Schumerphiles: Hackers are using your favorite comic for evil.
Intel Security's annual dangerous celebrities study showed that internet searches related to the Trainwreck star have a 16% chance of sending you to a website that has either viruses or malware.
Intel paired Schumer's name with phrases like "torrent" and "HD download" — common search words for finding free, illegal downloads or media streams. Schumer's results beat out Justin Bieber and the somehow still virus-worthy Carson Daly for highest likelihood of connecting to a malicious site.
"The top spot isn't that surprising," Intel Security's Vice President of Global Consumer Marketing, Gary Davis, wrote on McAfee's blog. "Cybercriminals are after people's attention. ... Simply put: People can't get enough of her sassy jokes, making her a prime target for cybercriminals who want to capitalize on her popularity."
Davis wrote that searches for gossip or new photos are prime targets for malicious lie-in-wait programs used to steal passwords or credit card information. "This method is particularly effective on social media channels, where the standards for trust are low," he wrote.
The list is Intel's annual effort to trot out its McAfee WebAdvisor software, but provides some interesting data nonetheless. In 2015, McAfee's list was topped by DJ Armin van Buuren, who moved up from second place the year before. By comparison, that same year Schumer was rated seventh, behind Buuren, Luke Bryan, Usher, Britney Spears, Jay Z and Katy Perry. So if we're using the Most Dangerous Celebrities list as a fame metric, Schumer saw a meteoric rise.
So congratulations to Schumer. Because like the old adage goes, "You haven't made it in Hollywood until cybercriminals use your status to screw your fans."