'The Lion King' is the latest Disney film to get a live-action remake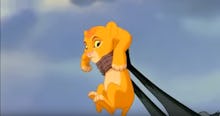 Disney is going through its own circle of life, with live-action remakes of their classic animated films coming left and right. It was only a matter of time, then, before The Lion King would get one of its own. 
In a press release Wednesday, Disney confirmed they will be working on a live-action "reimagining" of The Lion King with Jon Favreau, the director of the studio's live-action Jungle Book remake from April. Aside from that, details are sparse — though the press release notes that the new movie will incorporate songs from the original animated film, much like Favreau's Jungle Book. 
While, yes, it's another remake of a classic children's movie — part of a growing trend in the industry of endless reboots and sequels — Disney's choice of Favreau has promise. His Jungle Book remake wasn't just a financial success; it was a critical darling praised for its stunning visuals. 
Considering The Lion King remake is in Favreau's hands, audiences should expect the same attention to detail in terms of CGI. Moreover, James Earl Jones, the booming voice of Mufasa, could theoretically return for the role. There is precedent: He's reprised another iconic role for Disney as Darth Vader's voice in the upcoming Rogue One: A Star Wars Story. 
No release date or casting news is set for The Lion King remake, so in the meantime, hakuna matata.