'Special Relationship' podcast: What did the first presidential debate teach us?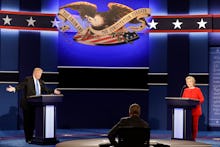 Accusations. Interruptions. Insults. And maybe even a few actual answers.
Hillary Clinton and Donald Trump faced off in their much-anticipated first of three presidential candidate debates this week. Special Relationship, the podcast from Mic and The Economist, breaks down what happened in Round One — and what we might expect from the upcoming showdowns in Missouri and Nevada.
Listen here:
This week's quick-turnaround episode of the trans-Atlantic politics program delves into what Democrat Clinton and Republican Trump had to do coming into the debate at Hofstra University, the high points and errors of their performances and how the rivals may recalibrate for their next TV rumble.
Subscribe to Special Relationship on iTunes, Google Play or anywhere you listen to podcasts. Please give us a rating and a review, and stay tuned for our 13th episode.