Alicia Machado "porn star" rumors are conservatives' latest smear tactic against her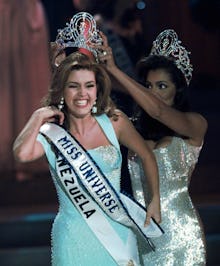 Conservative media outlets are attempting to discredit former Miss Universe Alicia Machado — whose fat shaming at the hands of Donald Trump is dogging the Republican presidential nominee after Monday night's debate — by claiming she appeared in porn.
The Machado porn claims were originally reported Wednesday morning by conservative news outlet the Daily Caller, which claimed Machado appeared topless in Mexican Playboy in 2006 and 2012, as well as in "snippets of an adult film."
The smear campaign is likely an attempt to divert attention from Trump's mean-spirited fat shaming against Machado, which Hillary Clinton brought up during Monday night's debate.
Clinton's comments during the debate were in reference to comments Trump made about Machado after she'd gained weight following her crowning as Miss Universe in 1996. Trump, who owned the pageant, demanded Machado lose weight and arranged for her to work out in front of reporters and television cameras. Machado said that Trump would call her names like "Miss Piggy," "Miss Housekeeping" and an "eating machine."
Trump kept the story going after the debate, justifying his behavior by claiming Machado was the "worst" because she gained a "massive amount of weight."
Seeking to squelch the story before it could further damage Trump's image among women voters, conservative media glommed onto the Machado porn claim, as well as other oppositional research about Machado's past. 
Conservative media reported that Machado was accused of being an accomplice to a murder in 1998. However, she was never charged, and had an alibi for the time of the murder.
Post-debate polls are few and far between just two days after the showdown wrapped. So for now, it's unclear how much damage the Machado controversy will have on Trump's support.
But Democrats are pushing the narrative hard on the campaign trail.
First lady Michelle Obama alluded to Trump's comments against Machado Wednesday during a Clinton rally in Philadelphia.
"If a candidate makes cruel and insulting comments about women ... that's who that candidate really is," Obama said.