It turns out 92% of people on Earth are breathing polluted air, WHO finds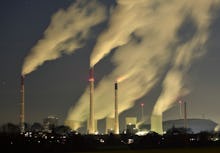 It was already clear that pollution has had a devastating effect on air quality in dense cities like Beijing, where heavy smog days keep schoolchildren indoors. But a new report released by the World Health Organization indicates that 92% of people on Earth live in places where they breathe polluted air. 
The WHO also released an interactive map showing the air quality in different parts of the world. The map indicates large areas of poor air quality in places like Southeast Asia and Sub-Saharan Africa, and pockets of polluted air around some of the world's biggest cities, like New York and London. 
Much of the United States and Canada, except major cities, have relatively clean air, according to the WHO's map — although as the organization makes clear in its report, "air pollution affects all regions, settings, socio-economic groups and age groups."
The WHO reported 92% of us live in places where the level of PM 2.5, a kind of particulate matter, in the atmosphere exceeds the WHO's suggested limit of 10 micrograms per cubic meter. 
According to CNN, PM 2.5 is the "most dangerous kind" of particulate matter, and "includes pollutants such as sulfate, nitrates and black carbon, which can sneak deep into the lungs and cardiovascular system."
Breathing in these tiny particulates is associated with a number of health problems, including asthma and respiratory disease. According to the WHO, 1 in 9 deaths in 2012 were connected to air pollution, and, of those deaths, "around 3 million are attributable solely to ambient (outdoor) air pollution."
But perhaps the scariest part of WHO's report is that it acknowledges "the actual impact of air pollution on health presented here is a conservative figure." 
The reality of the air we're breathing could be even worse.