Election polls 2016: Is Hillary Clinton or Donald Trump winning after the debate?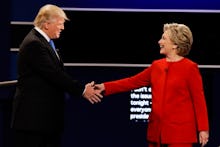 While polls show the presidential race remains close, new polling appears to show Hillary Clinton has halted or even reversed Donald Trump's steady climb in the race.
In a head-to-head matchup against Trump, Clinton bests him by six points in a new Reuters/Ipsos poll. The same pollsters give Clinton a four-point advantage when Gary Johnson and Jill Stein are included. 
Morning Consult gave Clinton a three-point lead over Trump in a poll released Wednesday, and another poll, focused on debate viewers, found nearly half of voters believed Clinton won the debate, while only a quarter believed Trump won. Yet only 9% of voters said the debate changed their mind.
Overall, the RealClearPolitics average of polls has Clinton up about two points in the four-way race — and FiveThirtyEight still gives Clinton about a 56% chance of winning the election.
As we await poll results to show if the debate had an effect on the race, we should be particularly focused on what comes out of state-level polls. A spate of state polls were released on the day of the debate, but none have been released since then, according to RealClearPolitics.
A slow demise for the third party candidates?
Trump has reached more than 41 percentage points in the four-way race — a level of support he has not reached since RealClearPolitics began tracking support for the four candidates in early June. But as Trump's support has risen, so has Clinton's. 
Clinton's support, at nearly 44 points, is almost back to where it was when she led Trump by more than seven points in early August. The difference now? Support for Johnson and Stein has fallen since their unsuccessful push to reach the presidential debate stage.
This could be short-lived. Trump's widely panned debate performance may cause him lose support in upcoming polls, which could translate to a rise for the third party candidates. 
But at least for now, two competing narratives appear to be true. Trump has finally punched through his 40-point ceiling in polls, yet Clinton continues to lead by about the same margin she did three weeks ago. If support for Johnson and Stein continues to decline, it's unclear whether those voters will push Trump closer to Hillary or push Hillary closer to holding support of half the electorate.
The takeaway: The race remains tight. The debate may not lead to a major polling boost for Clinton. And a continued drop in support for third-party presidential candidates could dramatically alter polling.