The Weeknd destroys his former image, career and reputation in new "Starboy" music video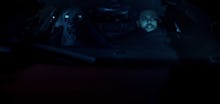 A week ago, The Weeknd revealed to the world he had cut his hair, getting rid of his signature dreadlocks. The internet, as many could've expected, lost its collective chill. Wednesday, in a new visual for his "Starboy" single featuring Daft Punk, The Weeknd offers a phantasmagoric glimpse at how the look came to be. 
In the dark and edgy new visual, the 26-year-old hitmaker destroys a lot more than his signature locks. It opens with haunting scene in which a masked killer suffocates the old dreaded Weeknd, with a very large plastic bag. The Weeknd's killer turns out to be an updated version of himself: with a fresh new cut, slick dance moves and an egotistical dark side. He then jubilantly proceeds to smash his home to pieces with a neon cross, destroying the awards and accolades that his subtle ambitions to become the next Michael Jackson recently helped him earn.
As he drives off into the night, leaving behind his burning past in the background, the statement the artist is seeking to make with his first single is clearer than ever: The man behind the music is determined to shatter anyone's expectations of what a Weeknd album is supposed to sound like. 
Notably, this is not the first time the Weeknd has symbolically killed himself in one of his music videos. In his August 2015 video for "Tell Your Friends," an evil Weeknd buried another version of himself alive, again with a plastic bag over his head. That visual came during a major turning point in the Weeknd's career, when he seemed to be looking to sample life as a top-billing pop star. On that album, Beauty Behind the Madness, the Weeknd sang over production from Max Martin and collaborated with Ed Sheeran.
As suddenly as the Weeknd opened that chapter, he seems to have closed it.
"Even though I've been putting out bodies of work for years, Beauty Behind the Madness felt like the beginning," the Weeknd said in an interview for VMan magazine's September issue. "My purpose is to make exciting music, and I feel like I'll be doing that for the rest of my life, so there's no pressure. Nothing is stopping me from doing what I love to do."
For his upcoming album he's drawing from a very different corner of the music world. "There are new inspirations on this album," the Weeknd told VMan earlier in the interview. "The production feels aggressive but still sexy. The Smiths, Bad Brains, Talking Heads, Prince and DeBarge play roles." 
His videos are following suit: more aggressive, but still sexy.
With "Starboy," nothing, and no one, is stopping the Weeknd from achieving his goals for his upcoming album, set for release Nov. 25. Not even himself. Check out the video below:
Sept. 28, 2016, 2:50 p.m.: This story has been updated.