MacBook Pro rumors: Here's what to expect from Apple's next laptop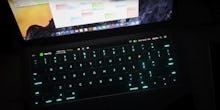 The next generation of MacBook Pros is widely expected to arrive before the end of 2016 — perhaps as soon as October. But since Apple has yet to confirm this news, details on the new laptops are nothing more than speculation for now. Fortunately, a number of Apple insiders have done some digging to give consumers a solid idea of what to expect. Here's what the new MacBook Pro could bring to the table:
OLED display touch panel: Apparently Apple is calling this the "Dynamic Function Row" because it will replace the standard set of function keys at the top of the keyboard. The strip will allegedly offer app-specific shortcuts and setting controls for on-the-fly adjustments. In addition, the laptop's power button is said to come equipped with Touch ID for easy log-ins.
Design changes: Just as model updates usually go, Apple will reportedly slim down the new MacBook Pro with a thinner and lighter body in addition to a flatter keyboard. Special "metal injection mold-made (MiM) hinges" have been installed to accommodate the slender frame. The trackpad is also said to be pressure-sensitive, similar to the iPhone 7's home button. Apple is rumored to be offering the new MacBook Pros in both 13- and 15-inch sizes. 
Software and hardware: The updated MacBook Pro will run on the recently released MacOS Sierra operating system, which offers a slew of a new features such as Siri support, interacting Messages and Apple Pay functionality. The computer's hardware should also receive an upgrade: notably, a more powerful graphics card to support gamers and professional software like Final Cut Pro. All in all, Bloomberg has described the refreshed MacBook Pro lineup as the "most significant overhaul in four years."
With October around the corner, we should hopefully get an announcement from Apple soon. Mic will keep you updated.