Donald Trump's net worth plunged 18% over the past year, new calculations show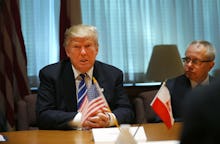 Shortly after Donald Trump announced his campaign for the White House, he filed a disclosure statement that set his estimated net worth at more than $10 billion.
Forbes magazine, which for years has tracked the fortunes of the world's wealthiest people, however, pegged the real estate magnate's bottom line at closer to $4.5 billion.
Now, Forbes says its scrutiny of the Republican's assets shows his fortune has tanked $800 million from a year ago, putting him at an approximate worth of $3.7 billion — a nearly 18% decrease.
Unlike other presidential candidates in modern U.S. political history, Trump has made his business acumen a major selling point, but has consistently refused to release his tax returns, making the job of figuring out what he's really worth a lot harder.
Still, Forbes says after much digging, they calculated that he'd lost the $800 million for a variety of reasons:
A softening of New York City's real estate market, particularly in retail and office, where valuations are trending down... New information was also a factor. Of the 28 assets or asset classes scrutinized by FORBES, 18 declined in value, including his trademark Trump Tower on Manhattan's Fifth Avenue, his downtown jewel 40 Wall Street and Mar-a-Lago, his private beachfront club in Palm Beach.
Trump lost a number of lucrative business relationships immediately after getting into the campaign thanks to his incendiary remarks about immigrants, among other groups. Among his burned bridges: Ties to Univision and Macy's.
Forbes also noted, "As for his campaign, Trump gave it $7 million and loaned it an additional $48 million of his own cash, which Forbes does not expect he will get back."
A Trump spokeswoman did not immediately respond to a request for comment.