Trevor Noah reminds 'Daily Show' viewers of the time Donald Trump defended statutory rape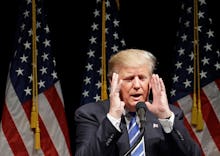 Donald Trump has said some pretty disturbing things about women. He has made reference to dating his own daughter, attacked his female presidential opponents on the basis of their looks and degraded women on the basis of their weight. He's also used their appearance to justify statutory rape.
That's right: In a 2004 interview with Don Imus, Trump defended statutory rape because he thought the woman involved was hot. Daily Show viewers were reminded of the exchange Wednesday night, when host Trevor Noah explained why the Republican candidate is, in Noah's words, the "Master of Sexism." 
On Dec. 2, 2004, Trump shared his thoughts on the sex scandal surrounding Debra Lafave — the 23-year-old teacher who had sex with her 14-year-old student — on Imus in the Morning. In a span of roughly eight seconds, Trump goes from expressing disdain to discussing Lafave's looks. 
Here's the dialogue, as presented by The Daily Show: 
Trump: How would you like to be the husband of the wife who was playing around with a 14-year-old kid? Unbelievable. By the way, did you see what she looked like?
"You know, for a man who's so pessimistic about America, about the world, about humanity as a whole, Donald Trump has a surprisingly glass-half-full perspective of adults banging middle schoolers," Noah said.
As a reminder, an adult who puts the moves on a child — or acquiesces to a child's advances — invites a battery of felony charges, because a minor is automatically incapable of giving consent, even if that minor does not appear to be "scarred forever," as Trump put it to Imus, or at all. 
A 14-year-old is a minor, and as such, Lafave pleaded guilty on two counts of lewd and lascivious battery when the case went before a judge. 
"I mean, wow, is there anything that Donald Trump doesn't judge by how hot the woman is?" Noah continued.
If Trump's behavior this election season is any indication, the answer to that question may just be to be a resounding nope.