Alyssa Edwards, woman of many wigs: In praise of the 'RuPaul's Drag Race' breakout star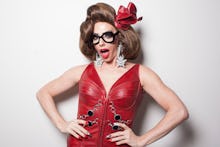 When RuPaul announced the cast that would compete on RuPaul's Drag Race All Stars season two, it was easy enough to identify what roles the alumni contestants would fill. There were former villains seeking redemption: Phi Phi O'Hara, Roxxxy Andrews, Coco Montrese and Ginger Minj. There were queens who had changed up their drag since their season: Tatianna and Adore Delano. There were the queens thirsty for the crown: Alaska, Detox and Katya.
Then there was Alyssa Edwards: The 36-year-old dance teacher and choreographer from Mesquite, Texas, known as Justin Johnson out of drag, was hardly the same queen as she was when she appeared on season five of RuPaul's Drag Race. At that time, she was still fighting a years-long feud with fellow queen Coco Montrese over a lost Miss Gay America pageant title. She showed skills when lip syncing for her life, but didn't thrive in the challenges. Drag Race Alyssa was not true, peak Alyssa.
Fast-forward to 2016, and Alyssa Edwards is a superstar, arguably one of the most popular queens to ever emerge from the show. Even RuPaul has called Alyssa the breakout star of her season, and All Stars 2 has only fanned the flames of fans' love. She may not win the season — she's already been eliminated once, then fought her way back in — but she doesn't need the crown. She's already drag royalty. She's the people's queen.
(Editor's note: Spoilers ahead for the second season of RuPaul's Drag Race All Stars and the fifth season of RuPaul's Drag Race.)
Between season five and All Stars 2, Alyssa figured out how to harness her best, funniest asset: herself. With Drag Race production company World of Wonder behind her, she launched the web series Alyssa's Secret — named after her infamous, disastrous perfume in a season five challenge. Even that naming choice nodded at Alyssa's new willingness to let her hair down.
"She's embraced" her personality, said fellow Drag Race alumna Shangela in a phone conversation Wednesday. "She's not afraid to make fun of herself." Shangela is better-acquainted with Alyssa's quirks than most: She is Alyssa's drag daughter.
Alyssa's Secret is not a high-concept show: The hostess with the mostess talks for anywhere from three to 10 minutes about a particular topic, putting all of her quirks on display, from her signature tongue pop to her unique take on the English language. There's not an idiom out there that Alyssa can't twist into something else — for example, her declaration in the All Stars 2 premiere that she and Coco Montrese have "buried the hatch."
Alyssa has brought all of her Alyssaisms to All Stars 2, proving herself to an audience that didn't keep up with her between the two seasons. Viewers who grew tired of her feud with Coco now live for her "Alyssa Edwardian tangents," as fellow season five queen Alaska put it in the season's fifth episode.
Yet if Alyssa just tongue-popped and dropped malapropisms, she'd be a funny queen, but not a real star. Even if she danced and death-dropped through every challenge and lip-sync, fans wouldn't have much to enjoy. She did all that before. But Alyssa brought two other secret ingredients along: professionalism and heart.
For a queen who embraces her own buffoonery, Alyssa takes her craft seriously. Look at episode three, when Alyssa won the week's challenge and defeated competitor Detox in All Stars 2's signature lip-sync for your legacy. In this format, the lip-sync winner must choose which bottom queen to eliminate. 
Instead of merely sending home the worst performer that week, Alyssa weighed the choice with great consideration. Yes, Katya received the worst critiques in that challenge, but she had just won the challenge the week before. However, fellow bottom two dweller Ginger Minj hadn't stood out at all throughout the season. Instead of eliminating her bigger competition, she chose to keep Katya, a queen whose journey Alyssa felt wasn't complete.
"Katya, I love you," Alyssa said after the elimination. "You still have more to show." It wasn't a competitor talking to a competitor. It was a teacher and a lover of drag working to build another queen up.
When fellow queen Phi Phi questioned Alyssa harshly the very next week about not eliminating Katya, Alyssa kept her cool. She stated her case calmly and succinctly, emphasizing Katya's consistency. When it became clear she wouldn't win Phi Phi over, she simply said, "We can all agree to disagree," and moved on as Phi Phi seethed.
"She has been a true professional," Shangela said when discussing Alyssa's time on All Stars 2. "She has established herself as a breakout star, and that's something that's inspiring to me as a fellow drag entertainer."
Of course, that professionalism wouldn't mean anything without a deep appreciation and affection for her work — which season six queen Laganja Estranja, another of Alyssa's drag daughters, says Alyssa has in droves.
"This is her passion," Laganja said in a phone interview Wednesday. "She may say dance is her passion, and she loves choreography ... but deep down, Alyssa really loves drag. She loves it more than anyone I know. I guess that's not a category in [Drag Race], but I think it should be."
Alyssa's love of drag makes her admirable. Her professionalism makes her respectable. Her kindness makes her endearing. Her quirkiness makes her lovable. But it's all of these qualities combined that make her the most impressive thing of all — and that's herself. Her full embrace of herself is making her run on All Stars 2 something truly spectacular, and very different from her time on season five.
"She went in just with the concept of, 'I want to be better than I was last time, just for myself,'" Laganja said of Alyssa's All Stars strategy.
If self-improvement was indeed her goal, Alyssa has succeeded many times over. Her season five performance as Katy Perry in the Snatch Game (a play on Match Game) was an epic disaster. Her Snatch Game performance as Joan Crawford this season, on the other hand, was a riot — and such a transformation that even Shangela, her own drag daughter, said she didn't recognize Alyssa when she saw the Joan Crawford impersonator on set.
Alyssa has won two challenges: a stand-up comedy set (a challenge she bombed in her season) and a lip-sync extravaganza. Her lip sync performance against season two queen Tatianna to return to the competition was a season highlight. And watching her eliminate Phi Phi struck many a fan as a kind of poetic justice: the season's hero rising up to take down the season's villain.
"Being true to yourself" seems like bad advice for a drag competition — after all, Justin Johnson is not Alyssa Edwards. But Alyssa has found a way to put her best self into her drag, giving it a genuine quality. Alyssa isn't just a character; to root for her is to root for a real, flaws-and-all person.
Even if she doesn't walk out of All Stars 2 with the win, Alyssa is leaving with an expanded fanbase that laughs at her, loves her and respects her. Perhaps most importantly, she has drag daughters who couldn't be more proud of how their mother figure has embraced who she really is.
"Alyssa is a man of many hats," Laganja said. (Or, since we're talking drag, a woman of many wigs.) "She's the full package, and I'm definitely a proud daughter."
"She's a star," Laganja added, a mix of deep admiration and confidence resonating in her voice. "And don't you forget it."