Police say shooter killed father before injuring 3 at Townville Elementary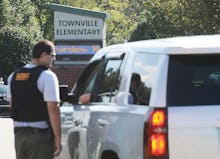 On Wednesday, local law enforcement responded to a "possible shooting" at Townville Elementary School in Townville, South Carolina.
Authorities later confirmed they had taken a teenage male suspect into custody and believe he murdered his father before opening fire at the school, wounding two students and a female teacher, according to the Associated Press. While one of the students and the teacher are in good condition, the remaining victim, a 6-year-old student, is in critical condition at Greenville Memorial.
Reuters reported a volunteer firefighter held down the suspect, allowing for teachers to get students inside the school and farther from danger. The agency identified the deceased man as 47-year-old Jeffrey DeWitt Osborne.
According to the Greenville News, witnesses reported seeing "dozens" of emergency vehicles being dispatched to the scene around 2 p.m. local time.
Local news outlet WSPA7 reported nearby roadways had been closed and authorities were on the school's roof with "weapons drawn." WSPA7 additionally reported at least one patient had been airlifted to a hospital.
Sept. 28, 2016, 6:11 p.m. Eastern: This story has been updated.