Juanita Broaddrick, who accused Bill Clinton of rape, fires back at Chelsea Clinton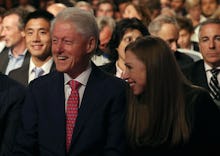 Juanita Broaddrick, who accused Bill Clinton of raping her nearly 40 years ago, fired back at Chelsea Clinton in a series of tweets Wednesday after the former first daughter lamented attacks on her parents' character in a new interview.
"I don't remember a time in my life when my parents and my family weren't being attacked," Chelsea Clinton told Cosmopolitan. In response, Broaddrick tweeted to Clinton "your parents are not good people." 
Broaddrick alleged in 1999 that Bill Clinton raped her during his 1978 run for governor in Arkansas. While no physical evidence tied Bill Clinton to the crime, Broaddrick has staunchly defended her account over the years. 
Then-President Bill Clinton was impeached in 1998 as a result of a lawsuit filed against him by Paula Jones, a woman who alleged Clinton had sexually harassed her. The lawsuit eventually embroiled former White House intern Monica Lewinsky, with whom Clinton conducted an extramarital affair.
Broaddrick has argued Hillary Clinton is also culpable in the crime she says the former president committed. After Bill Clinton allegedly raped Broaddrick while she was volunteering for his gubernatorial campaign, she says the presidential nominee worked to cover up his misdeeds. Broaddrick told Mic in January that Hillary Clinton thanked her for "all [she] was doing for them" at a campaign event in 1978.
Last year, when confronted with the allegations against her husband, Hillary Clinton said all accusers should be taken at their word "until they are disbelieved based on evidence." 
This was not the first time during this campaign Broaddrick has resurfaced allegations of the former president's alleged assault. In January, another tweet Broaddrick posted was retweeted more than 55,000 times. 
Donald Trump has tried to make Bill Clinton's sexual history an issue on the campaign trail. But Trump has also said he did not bring up allegations against Bill Clinton in the first presidential debate on Monday because he did not want to hurt Chelsea Clinton's feelings.