iPhone 8 leak: An Apple employee just revealed major details about the rumored 2017 device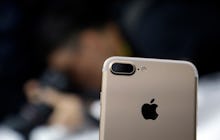 Is the iPhone 8 legit? A new report suggests it is, and its release date, specs and design may be welcome news to anyone less than thrilled with the iPhone 7.
Apple's iPhone 7 isn't even a month old, but the hype for next-generation Apple products never stops. The iPhone 8 — a name media outlets assigned to the speculated device — is reportedly in development. And apparently, that really is the next iPhone's title, according to an Apple employee.
Business Insider spoke to the person in question, who works at an Apple office in Herzliya, Israel. The report says that the employee referred to the new device as the "iPhone 8" without being prompted by the reporter. That's the strongest evidence of the new model's name to date.
Apple typically releases new number models in a two-year cycle, with an "S" upgrade coming the year in between, such as the iPhone 6s in 2015 after the iPhone 6 in 2014. It doesn't look like that will happen this time, however. As 2017 marks the tenth anniversary of the iPhone, the general consensus appears to be that Apple is marketing the iPhone 8 as an entirely new product. And according to the Apple employee Business Insider spoke to, that's exactly what it is.  
The source didn't reveal too many details, but they said that the iPhone 8 will be "different" from the iPhone 6s and iPhone 7, which critics argue are very similar. The Apple employee also said that the iPhone 8 would have a better camera than Apple's previous two devices. This is normal for Apple, but it could mean a dual-lens camera for the standard iPhone 8 — not just the Plus edition. 
The source couldn't offer any more information, but maintained that the iPhone 8 would be "released next year with a radical redesign," according to Business Insider. We certainly hope so.