Former Miss Australia says "controlling" Donald Trump body shamed her too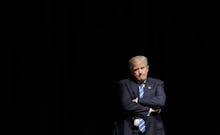 Alicia Machado isn't the only former beauty pageant winner who says Donald Trump shamed her over her weight.
In an interview with Inside Edition, Australia's Jodie Seal, who competed with Machado in the Miss Universe pageant, called Trump a "Mussolini-" grade tyrant who regularly mocked women about their bodies.
"He was calling some girls some pretty horrible names as well," Seal said. "He said to me, 'Suck your stomach in. Suck your gut in.' He always wanted us to be sexy."
Machado, who captured the Miss Universe crown for Venezuela in 1996, has said the Republican presidential nominee called her degrading names like "Miss Piggy" after she gained weight post-pageant and "Miss Housekeeping" in reference her Latin American roots.
As the story of Machado — who's been championed by Democrat Hillary Clinton as a living symbol of Trump's bad attitude toward women — continued to swirl, Seal told Inside Edition the Manhattan mogul was "sexist" and "scathing" toward Miss Universe contestants when he oversaw the pageant.
"He'd walk by while we were eating. He put a lot of the girls down. It was supposed to be the time of our lives," Seal said, calling Trump "controlling" and saying he wanted the contestants exercizing daily.
Machado "weighed less than I did, during the pageant, after the pageant. There's no way she was big," she added.
"I really feel for her," Seal said of Machado. "She was meant to be the most beautiful woman in the world — Miss Universe — and she was treated with no respect."
By contrast, Camila Hanson, who competed alongside Machado and Seal for Sweden, told Inside Edition her experiences left her with the impression that Trump "was a nice man."
NBC refused to broadcast last year's Miss USA and Miss Universe contest after Trump, who had partial control of the pageant, made inflammatory statements about immigrants.
Spanish-language Univision also cut pageant ties with the Miss Universe production thanks to the derogatory remarks from Trump, who sued the network for $500 million. The sides announced a settlement in February, but did not disclose the terms.
Both Trump and Clinton have high negative ratings with voters, but the former secretary of state seemed to have gained some ground with women after the candidates' first debate Monday at Hofstra University.
A NBC News/Survey Monkey poll released Wednesday found 27% of "likely women voters said the debate made them think worse of Trump" while 30% said their opinion of Clinton had gone up.
"Women were also far likelier to say Clinton won the debate, by a 10-point margin over men," the poll showed.