ETSU student who wore gorilla mask to Black Lives Matter protest arrested, charged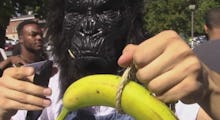 Authorities arrested an 18-year-old East Tennessee State University freshman and charged him with civil rights intimidation after he attended a Black Lives Matter event at the school with a gorilla mask, bananas tied to a rope and a burlap sack with a Confederate flag on it in an attempt to provoke protesters, WJHL reported on Wednesday.
The student, who has been identified as Tristan John Rettke, was taken into custody by the campus police and taken to Washington County Detention Center, WJHL noted. According to an ETSU Department of Public Safety report, WJHL wrote, Rettke said he first learned of the BLM event via Yik Yak, an anonymous social app.
In a statement posted to Facebook, ETSU officials said the "Earlier today during a student-led Black Lives Matter event at Borchuck Plaza, our campus community was outraged by the behavior of one student who confronted the participants. The actions of this one individual go against the values of our university where people come first and all are treated with dignity and respect."
ETSU officials also thanked students for exercising "restraint, thoughtfulness and strength" in the face of the provocation.
According to Justia, the Tennessee criminal code establishes Class D felony penalties for individuals who injure others or damage property, or threaten to do either, in order to prevent the lawful exercise of civil rights, as well as establishes Class A misdemeanor penalties for "a person to wear a mask or disguise with the intent" to do so.