El Cajon shooting: Authorities say Alfred Olango pointed "vaping device" at officers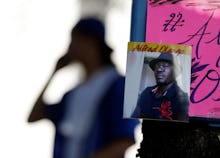 One day after Alfred Olango, a black man who reportedly had a mental illness, was shot and killed by police in El Cajon, California, investigators are saying Olango pointed a "vaping device" at officers, causing one of them to discharge their weapon.
A woman who identified herself as Olango's sister had called authorities Tuesday and said Olango, 38, was "not acting like himself" and that he was mentally ill and unarmed. 
El Cajon Police Chief Jeff Davis  said in a Wednesday evening press conference that he had seen the video of the shooting, and that Olango pulled a vaping device out of his pocket and pointed it at officers in a "shooting stance," according to CNN.
In a press release, the El Cajon Police Department said Olango refused to comply with officers' orders multiple times to remove his hands from his pockets. The video taken by a bystander and given to police "clearly shows" the incident how police have described it, according to the statement. 
Authorities have yet to release the video, except for a still.
One of the officers involved in the incident has been identified as Richard Gonsalves, a 21-year veteran of the police force, according to CNN.
Of the protests that have begun after Olango's death, El Cajon Mayor Bill Wells said "I understand that they're wanting more information."
"I saw a man who was distraught, a man who was acting in ways that looked like he was in great pain, and I saw him get gunned down and killed and it broke my heart. If it was my son, I would be devastated," Wells said.
Protesters marched through the streets Wednesday night, partially blocking off a freeway exit.
Police Chief Jeff Davis said the woman who initially called 911 and identified herself as Olango's sister has not been cooperating with authorities. "We tried to get her to talk to us. As you can understand, she was upset. She was not cooperating with us," Davis said, according to CNN.
"Oh my god, you killed my brother. ... I just called for help and you killed him," the woman can be heard saying in a video of the aftermath of the shooting.