'Black-ish' season 3, episode 2 recap: Zoey questions her belief in a "God"-filled episode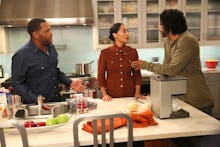 As far as specifically "black" topics go for Black-ish, religion is a well that's pretty impossible to drain. That's not to say that Black-ish is a particularly religious show, but the series has always made the Johnson family's religious beliefs abundantly clear — as is evident in Wednesday's episode, "God."
This show's depiction of religion usually centers on Ruby (Jenifer Lewis), Dre's (Anthony Anderson) vocally religious mother Religion has always been a complicated matter for the Johnsons, and even Ruby can be quite hypocritical about faith. Last season's "Churched" episode brought more reality to how the Johnson family attempts to mix socialization with religion. But it's an established aspect of this family that they run on the spectrum of belief, from "black Jesus"-fearing Ruby or the hippie-bred Rainbow.
That's what makes the general concept of this episode — the idea of anyone in the family questioning the idea of God — work right off the bat. While Diane (Marsai Martin) may be the more obvious choice for a crisis of faith, given her terrified-of-everything being, it makes just as much sense for this episode's choice of the more rational Zoey (Yara Shahidi) to question the reality of God. 
Dre isn't asking Zoey for an unquestioning belief in God, no matter what Ruby would prefer. Dre's attempts to re-convert Zoey with sneak attack prayers and de-whitening the house are surface-level solutions to a deeper quandary. He may make a lot of misguided attempts to guide Zoey back to fait, but over the course of the episode, it becomes clear he's not really asking for Zoey to believe the way he and Ruby believe. This kind of understanding and compromise is what makes Black-ish such a great family sitcom. Dre remains an absolutely ridiculous and over-the-top character, but when Black-ish reins him in, it works.
Despite not being the season premiere, "God" is the perfect reintroduction to the world of Black-ish in this way. Zoey's explanation that her higher power is her parents also shows that this entire situation isn't just some shallow decision she makes to be like her pretentious uncle Johan (played by Hamilton's Daveed Diggs, who "came from afar just to say 'Bonsoir!').
"God" is a solid episode for Dre and Zoey in particular, as the typical push and pull of their relationship is pretty much the most reliable element of the series — besides Tracee Ellis Ross, of course. Zoey is typically the only one Dre and Bow don't have to worry about, so when they do, the crazy comes out. Zoey saying "thank God" at Bow's ultrasound (which is a brilliantly stressful scene, despite no actual belief that something will go wrong) shows she hasn't entirely given up her faith or that Dre has fixed his "broken" child, but it's the type of Black-ish ending that works because of how it doesn't necessarily fix everything.
There's not a definitive decision from the show about what the "right" answer in this situation is, and the plot itself ends up being more about how Dre's fears for what Zoey's life would look like without faith once he and Bow are out of the picture. (Especially since he himself can't figure out the "right" way to communicate with God — understandably, since "genie prayers" are all Dre really uses God for at this point.)
While Black-ish gets deep with Zoey and Dre's respective crises of faith in the meat of the episode, the subplot about Jack and Diane tricking (first inadvertently and then intentionally) Bow and Junior into doing their chores for them is a bit undercooked in comparison. The A-plot is quite funny despite its weight, but this plot goes almost too broad and seems like an afterthought. Jack and Diane remain in cute, precocious kid territory, and this makes the plot work despite how lightweight it is. That plot is certainly disappointing to deal with once the episode reveals that Diane has been intercepting Charlie's anonymous letters to Dre about her. The Johnsons really need to keep an eye on that one.
The next episode of Black-ish airs Wednesday at 9:30 p.m. Eastern.