The Weeknd drops "False Alarm" from upcoming album 'Starboy' — listen here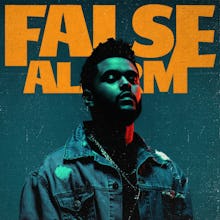 The Weeknd released "False Alarm" on Thursday morning, the second track off his forthcoming album Starboy, set for a Nov. 25 release. The single arrives with artwork seemingly borrowing the aesthetic of the hit Netflix series Stranger Things. It captures a grim portrait of the Weeknd bathed in green light, rocking a ripped denim jacket, multiple chains and his transformative new fade. 
The song itself matches the art's electric grittiness. It's a haunting yet upbeat tune that blends punk with pop and dark EDM to create an erratic, danceable thriller. Listen to "False Alarm" here.
The lyrics focus on a woman whose become obsessed with the limelight and the attention, money and material possessions that come with it. "She always leaves the man she loves," the Weeknd croons on the bridge. "But the diamonds are forever/ She always seems to be alone/ But the diamonds make it better."
In this, it seems to follow the narrative of the Weeknd's previous single, the title track off the upcoming Starboy, which similarly contemplates the real value of the trappings of fame. The "False Alarm" drop comes only a day after the release of the Weeknd's "Starboy" music video. That piece shows the Weekend showing off a past version of himself and smashing the accolades he'd earned, before driving off into the night with a kitten-turned-panther in his passenger seat.
"False Alarm" shows the Weeknd driving even further down his own path, mixing a variety of new influences with the classic, sexually charged, edgy melodies that helped his previous album, Beauty Behind the Madness, top the charts for weeks.
"My purpose is to make exciting music, and I feel like I'll be doing that for the rest of my life, so there's no pressure," the Weeknd recently told VMan magazine. "The production feels aggressive but still sexy. The Smiths, Bad Brains, Talking Heads, Prince and DeBarge play roles."
Listen to the Weeknd's "False Alarm" here via Hip-N-More and watch his "Starboy" music video below.
Sept. 29, 2016, 10:20 a.m.: This story has been updated.