Donald Trump allegedly told golf club managers to fire women who weren't "pretty enough"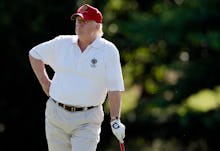 Despite his insistence otherwise, a preponderance of reports seem to indicate that Republican nominee Donald Trump has a bad track record with women. While his campaign alone provides more than enough evidence of this, Trump's history of misogyny predates his foray into politics. 
As part of a lawsuit against the Trump National Golf Club in Rancho Palos Verdes, California, multiple former employees testified to the real estate billionaire's insistence that female workers deemed not attractive enough be terminated.
"I had witnessed Donald Trump tell managers many times while he was visiting the club that restaurant hostesses were 'not pretty enough' and that they should be fired and replaced with more attractive women," the club's former director of catering Hayley Strozier said in court documents obtained by the Los Angeles Times.
Trump reportedly made these comments to managers so often, they started ensuring the club's restaurant had its best-looking employees working during Trump visits.
Sue Kwiatkowski, who worked as a manager at the restaurant until 2009, said in an official court statement that Trump was very clear with his demands.
"One time he took me aside and said, 'I want you to get some good looking hostesses here. People like to see good looking people when they come in,'" she recalled.
When the Los Angeles Times reached out to the Trump Organization regarding these allegations, an attorney called them "meritless." 
On Wednesday night's episode of The Daily Show, Trevor Noah played a clip from a 2007 speech Trump made at the The Learning Annex in San Francisco. With his arm around the young woman, Trump talks about what happened when the woman, whom he described as a "world-class beauty" and estimated her age at "17 or 18," applied for a waitressing job at one of his restaurants. 
"My people came, they said, 'Mr. Trump, she has no experience,'" Trump says in the clip. "So I interviewed her anyway because she was so pretty. And I said, 'Let me ask you, do you have any experience?' She goes, 'No sir.' I said, 'When can you start?'"
Noah summed up Trump's underlying message simply: "Experience doesn't matter," said Noah. "If Trump thinks you're hot, you're hired."
And — according to Trump's former employees — if you're not, you're fired.