"I'm the law today n*gga": Officer Melissa Adamson is out of 2 jobs after racist snapchat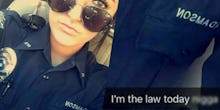 This is one Snapchat that just won't disappear. 
McKeesport, Pennsylvania, police officer Melissa Adamson was fired from her job and resigned from a part-time gig as a police officer in nearby Versailles Tuesday over a racist snap posted to her account, WTAE reported. The post, which also went up Tuesday, shows Adamson in full police uniform. The caption reads, "I'm the law today nigga." 
McKeesport Mayor Michael Cherepko posted a response to the media firestorm that followed on his official Facebook page Tuesday. 
"This post displays a degree of conduct and character that is far different from what I would expect from an officer in this city," he wrote. "It is absolutely unacceptable. Without hesitation, my office and the police chief's office immediately concluded that this officer's actions will not be tolerated in the City of McKeesport. She has been relieved of her duties, and her employment has been terminated." 
Adamson, in the meantime, told WTAE that she's "not racist." 
"That's not how I plan on portraying myself," she said. "I love my job. I love what I do. It's what I want to do for the rest of my life."
To further complicate matters, the uniform Adamson wore in the photo is not from the McKeesport police. It's from the Pitcairn Police Department, where Adamson was previously employed. Pitcairn police Chief Scott Farally said he would have investigated the photo "had it been brought to his attention," according to WTAE. Farally added that Adamson resigned from Pitcairn on Sept. 20 to take the position in McKeesport.
Adamson blames an altercation between her and a former police officer for the old picture's current circulation. 
"He's bringing up his dirt, ruining my career, which has been done," she told WTAE. "Everyone that knows me knows I don't have a racist bone in my body. And people who don't know me, I can understand why it was misconstrued to where it looks racist. But like I said, everyone who knows me knows I'm not racist."
"[Everyone] who knows me knows I'm not racist." — Officer Melissa Adamson
"I'm sorry for who I did offend," she added. "It was not my intention. I can't express how sorry I am for how I made you feel — emotionally, physically. Again, it wasn't my intention."
Snapchat is quickly becoming a lightning rod for racist controversies. Earlier in September, Kansas State University disavowed a student who posted a photo in blackface to her Snapchat account, saying she was "no longer enrolled" at the school. Snapchat itself came under fire after introducing an "anime" filter that many claimed to be racially insensitive toward East Asians.
While Adamson doesn't consider herself a racist, the unearthed photo underlines how subtler forms of bias can affect police conduct. Whether implicit or explicit, as in the case of racist text messages shared among San Francisco police officers in 2015, it's increasingly difficult to separate such casual, everyday racism from the nation's ongoing police brutality epidemic.