National Coffee Day 2016 freebies and giveaways: Here's where to get free coffee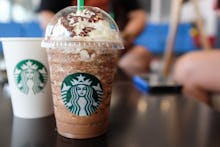 September 29 is National Coffee Day, which means that it's time to snag some free coffee. Here are some of the places you can count on for a free cup of joe, or where you'll at least find a good deal.
Krispy Kreme: The donut chain is giving away a free 12-ounce cup of coffee and a free original glazed donut for National Coffee Day. Get it while it's hot! 
Dunkin' Donuts: To celebrate the company's 66 years, Dunkin' Donuts will be offering a medium hot coffee for 66 cents.
Wawa: This regional chain with a cult following is giving away free coffee of any size on National Coffee Day and, according to NJ.com, plans to give away more than 2 million cups on Thursday.
Peet's Coffee and Tea: Stop by a Peet's on Thursday for a free medium drip coffee with any purchase of a "fresh food item."
Starbucks: The coffee giant isn't giving away free coffee on National Coffee Day. Instead, Starbucks is offering a 20% discount on some items on its online store and planting a coffee tree for every cup of Chiapas coffee sold on Thursday.