At her Fenty x Puma show, Rihanna let us know she doesn't care about gender norms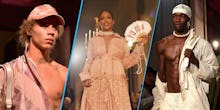 Rihanna has never been one to abide by the rules when it comes to fashion. She's walked down red carpets covered in just Swarovski crystals. She's attended the Grammys looking like a huge pink creampuff. She loves black lipstick. She's turned wine glasses into an accessory.
And at her Fenty x Puma show Wednesday at Paris Fashion Week, she let us all know that when it comes to fashion, gender rules don't mean a damn thing.
According to Rihanna's rulebook, men can wear pearl necklaces.
Men can wear pink. 
Men can wear purple.
Men can wear florals.
Men can wear multi-strand diamond necklaces. 
Men can wear platform shoes. 
Men, like women, can wear whatever they damn well please. Rihanna's just here to help them out. 
The inspiration for this show, which marks the second time Puma and Rihanna have worked together on a collection, was Marie Antoinette at the gym. In Rihanna's world, the inspiration applied to the female models just as much as the men. 
While the men strutted in pinks and pastels, the women wore corsets and lace. All wore pearls, luxe satin and platform shoes. Rihanna, because she is who she is, did give the collection a bit of urban influence as well, with a number of models wearing do-rags made of lace. 
Rihanna's collection comes at a pivotal time for men's fashion. For a few years now, androgyny and gender fluidity in fashion has been about women wearing clothing typically associated with men. Think women in suits and pants. But now, there's an active debate over whether androgyny can go the other way, with men wearing skirts and dresses, with champions like Jaden Smith rallying for the cause. 
"I just want to teach people how to be comfortable," Smith said to GQ. "Stop being so scared." 
Now, it's the fearless RiRi joining the conversation, and screaming from the rooftops, "Not only can you wear a skirt, but you can wear pink and purple and platforms and pearls too." 
What would we do without her?