Hoboken, New Jersey, train crash: Multiple injuries reported, at least 1 dead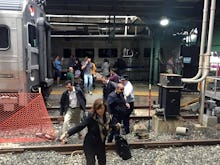 A major train accident reported in the Hoboken, New Jersey, train station on Thursday has resulted in injuries and at least one death, according to NBC 4 New York. 
Earlier reports from local hospital officials suggested there were an additional two deaths, but hospital sources later clarified, NBC 4 News reported, that "they had only received wounded patients," not fatalities. New Jersey Gov. Chris Christie confirmed there was one fatality.
A New Jersey commuter train crashed into the terminal itself, according to ABC News, damaging the structure of the terminal and injuring around 100 people. The terminal, which is New Jersey Transit's fifth-busiest station, was reportedly evacuated. 
Michael Larson, who's worked for NJ Transit for 29 years, described the incident to Mic as "one of the worst things I've ever seen in my life."
The train involved in the crash, number 1614 on NJ Transit's Pascack Valley line, was carrying 250 people, according to ABC News. It was reportedly running late.
"The entire train was like, through the building; the ceiling was cracked," Kim Marino, a commuter who was on the platform, told Mic. 
"People were bleeding and screaming and crying," she continued. "It was like, out of a movie. It was crazy." 
"I saw a woman pinned under concrete," Bhagyesh Shah, a passenger on the train, told NBC 4 New York. "A lot of people were bleeding; one guy was crying." The train "appeared" to have gone through a bumper stop, according to the NBC 4 New York report and "came to a stop in a covered area between the station's indoor waiting area and the platform."
Another passenger on the train, Jamie Weatherhead-Sal, told NBC 4 New York that the train "just felt like it never stopped. It didn't slow down. It didn't brake."
William Blaine, a train engineer who was in the terminal at the time of the crash, spoke to reporters at the scene about the "override system" that, in his experience, is in place to stop trains in the event of an emergency. He explained that if an engineer were to "fall asleep or pass out, have a heart attack" and not "touch that throttle in 60 seconds," the train comes to a stop.
"It's going to slide still, but it will stop that train," Blaine said. "It won't throw people, where people get hurt. It will slow it down and bring it right to a stop."
"That train never should have come in like that. Period. Nowhere near that,"  Blaine continued.
Photographs taken near the train station show emergency vehicles gathered in a nearby parking lot.
According to CNBC, local law enforcement officials said that there was no initial indication that the crash was deliberate or connected to terrorism. NBC 4 New York said that "preliminary reports" suggest the crash was accidental or the result of operator error. 
Pictures and video posted to Twitter showed the damage that the NJ Transit train caused.
This story is breaking. 
Sept. 29, 2016, 12:30 p.m. Eastern: This story has been updated.