Hoboken train crash photos: Social media images show aftermath of New Jersey accident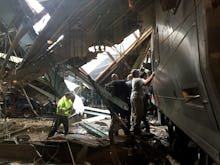 On Thursday morning, a train crash at the New Jersey Transit station in Hoboken, New Jersey, caused at least three deaths, more than 100 injuries and the "possibility of mass casualties," according to NBC.
On social media, passengers shared images and videos of the wreckage.
As of this report, exact numbers of injuries and trapped passengers are unconfirmed.
Sept. 29, 2016, 10:07 a.m.: This story has been updated.