iPhone 7 Plus camera specs: How to access every game-changing new feature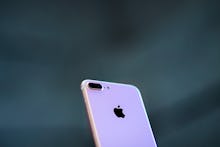 The release of Apple's newest mobile operating system, iOS 10.1, will give iPhone 7 Plus users access to "portrait mode" within the camera. It's a nifty feature that blurs the background with a virtual depth-of-field effect, making subjects pop in photos. Portrait mode isn't the only brand-new feature you'll find on the iPhone 7 Plus camera. Here's how to access all of them.
Switch camera lenses: The iPhone 7 Plus is outfitted with two camera lenses — wide-angle and telephoto — that work together as one synced system. You don't always have to use these lenses as one superdevice, however. Switch exclusively to the telephoto lens by tapping on the circle icon above the shutter button. You'll see a prompt to change to 2X, which if pressed will allow you to shoot solely with the 56mm lens. While the iPhone 7 Plus isn't quite a professional-level camera, using telephoto in general can have a number of advantages.
Zoom even further, at a cost: The image magnification doesn't have to stop at 2X. To go beyond telephoto zoom, either pinch the iPhone screen within camera mode or slide your finger across the circle logo to adjust the zoom level. 
There is a cost to exceeding 2X zoom, however. Optical zoom, which physically adjusts the lens to zero in on subjects, stops at 2X, and digital zoom takes over. Digital zoom isn't really zoom at all: It's merely cropping the photo and enlarging the remaining image, which results in a significant decrease in quality. Depending on the situation, though, this can be totally fine.