How your college's career services department can help your job search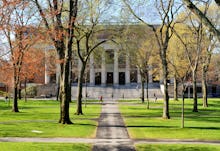 Being a college student (or alum) and never stepping foot in the career services office is like having a gym membership and doing sit-ups in your room. There are many ways career services can help you in your job hunt, so why go it alone?
"We help people wherever they are in their own career development," says Patrick Sullivan, Interim Director of the Office of Personal and Career Development at Wake Forest University. "Maybe that's putting together a resume, building a network or preparing for an interview. We can help you break down things that feel overwhelming."
We asked three experts to highlight some of the best ways career services can help you go from graduate to full-time professional—at no extra cost to you.
Discover your passion
Not sure what you want to be when you grow up? Career services pros can help you figure out who you are as a person—andwho you want to be as a working professional.
"One common misconception is that students need to have their career goals and plans figured out before coming to the Career Center," says Rachel Greenberg, associate director, Boston College Career Center. "In reality, so many of our services help students reflect on their interests, skills and values and explore career options that will align with those in order to support them in achieving a meaningful professional life."
Career services can also act like a career coach, says Sullivan. "If you're fairly creative, incredibly organized and a good communicator and have no idea what that means in the workplace, you'll be at a loss; but we can help students connect the dots and recognize possible opportunities—you could make a great project manager in an IT setting, or you could be a great account manager at an ad agency."
Hone your networking skills
It's not always what you know, but who you know that gets you the job. The first place young professionals meet the right "who" is at college.
"Students tend to underestimate the value of networking," says Alexandra Anderson, Associate Director of Career Services at Southwestern University. "It's the most powerful job search strategy, so no matter what the target, we discuss the importance of building a network, using online tools and connecting with our alumni groups."
Young alumni who still feel a connection to their college can be particularly helpful. "They've walked a mile in your shoes," says Sullivan. "We ask students to take advantage of formal university connections and more informal ones: For instance, student-athletes who played on the varsity team a few years earlier, people who were in sororities, people who were in the same service organizations as they are."
It can be pretty intimidating to cold call or email someone you've never met, so don't be afraid to ask for assistance. "We help students construct the right message to alums, or choose the kind of questions they might want to ask when doing an informational interview," says Sullivan. "We do everything we can to make their networking as easy and manageable as possible."  
Get the work experience you need
One of the most common reasons students seek out career services is for help securing an internship—and for good reason. A recent National Association of Colleges and Employers study says that 52% of those surveyed who got job offers before they graduated had held internships.
But there are other ways to get exposure and experience in the professional world. "Externships [short-term job shadowing] are perfect ways to test out your interests" and can be fertile ground for networking opportunities, says Pamela Gardner, the director of the University of Vermont's Career Center. "Career centers like ours often recruit alumni volunteers to host a student onsite for a day or even a week. Just recently we had a host ask if it was okay if he offered our student a part-time job based on their one-day job shadow!"
Some career services centers also help students participate in Case Competitions, which are nationwide challenges sponsored by big corporations. "You have a week to research and prepare a solution and develop a presentation," says Sullivan. "It' a very competitive process, and the reward is you get to advance in the interview process."
Perfect your resume
Sure, you can get a pro to critique your resume, but if you're still at college or have an alumni affiliation, you've got access to a team of people who would love to take a crack at your CV.
"We have several part-time employees whose sole job is to help students with their resumes," says Sullivan. They can help organize your experience and skills, craft a winning summary and even help you choose a font that looks good in print—and can be read by online applicant tracking systems.
It's a free service that's right at your fingertips. "Some students assure us they have no need of our help, because their parents or other personal contacts have helped them," says Anderson. "But when we review their resumes, we often find a great deal of room for improvement." 
This story was originally published on monster.com
Read more
100 companies making big hires in SeptemberShould you take a full-time job offer from your internship?How to ride the emotions of your first job searchAsk Vicki: How do I decide what career is best for me?How to be the intern everybody wants to hire