Kesha defends Alicia Machado, slams Donald Trump on "racist, misogynist verbal diarrhea"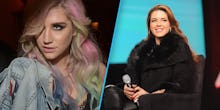 Another story of Donald Trump making offensive remarks about a woman — this time 1996's Miss Universe winner Alicia Machado — has sparked a nationwide controversy about his famed "temperament." Even those who don't typically comment on politics have been weighing in: the latest being Kesha, who has been dealing with an ongoing court battle against her own verbal abuser and alleged rapist, her producer Dr. Luke.
Kesha shared the New York Times' headline and lead photo for their Machado story — titled "Shamed and Angry: Alicia Machado, a Miss Universe mocked by Donald Trump" — on Instagram Thursday morning. The pop star coupled it with a long comment slamming the presidential candidate for continuing to disgrace the beauty contestant with fat-shaming remarks. 
"I want to give my support and respect to you, Alicia," Kesha captioned the image. "Donald Trump said that your body or weight was an issue (which makes me so sad and just sick). But, I find the real problem here being his bloated, arrogant ego and offensive, racist, misogynist verbal diarrhea."
"Words mean something, and can be extremely hurtful and dangerous," Kesha continued, lambasting Trump for his repeated offensive remarks about women and minorities. "They stay deep inside you and can affect your emotional and mental health. I know this from personal experience. They are hard, and sometimes impossible, to ever forget."
The experiences Kesha is likely referencing are her own with Dr. Luke. In her case against her producer, she detailed how his repeated attacks on her weight — calling her a "fat fucking refridgerator" — caused her to develop an eating disorder and enter rehab.
The story tragically mirrors Machado's own. Machado shared her story anbout verbal abuse from Trump in a Hillary Clinton attack ad Monday, calling the Republican presidential candidate out for reportedly calling her names like "Miss Piggy" and "Miss Housekeeping" after she gained 60 pounds following her Miss Universe win in 1996. In response, the former reality TV star and real estate magnate doubled down Tuesday morning, critiquing the contestant's weight gain again in an interview with Fox & Friends.
"She was a Miss Universe contestant and ultimately a winner who they had a tremendously difficult time with as Miss Universe," Trump told the show's hosts. "She was the winner and she gained a massive amount of weight and it was a real problem."
The pop star concluded by reassure the model that she is brave "for standing up and telling the truth, even if it hurts to remember it."
For the model, whose Facebook feed is currently being flooded with comments from outraged Trump supporters, the words of support likely come as a welcome relief. Thursday, Machado responded by retweeting several articles on Kesha's statements, starting by one in Spanish from the Reforma Gente! twitter account.