2016 presidential polls: Tracking latest Trump vs Clinton numbers through the election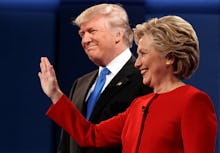 Polling stories are often too sporadic and hysterical to help readers understand the state of the presidential election. Mic decided to cut through the noise and give you the essential information — and to put it in context.
On Thursday, Oct. 6, here is how voters feel about the state of the presidential race.
Obama's approval: Why it matters
Barack Obama has reason to be happy today. But so does Hillary Clinton.
A new CNN/ORC poll shows Obama with the highest approval of his second term. At 55%, Obama's has now enjoyed approval from more than half of Americans in this poll for seven months. Overall, the RealClearPolitics poll tracker puts Obama's approval rating just above 50%.
That is good new for the president, but perhaps even better news for Clinton. Throughout the 2016 election, Clinton has presented herself as the political option to continue and even expand upon Obama's legacy. She says she will build on Obama's healthcare, higher education and foreign policy initiatives.
Meanwhile, Donald Trump attacks non-stop almost every decision Obama has made throughout his two terms in the White House. As noted by former Bill Clinton advisor Doug Sosnik months ago, Obama's job approval in his final year has trended higher than most presidents. The approval of the incumbent president often indicates how voters will treat the presidential nominee of the incumbent's party.
With Obama's approval numbers continuing to hold strong, Clinton can continue to rally supporters around the notion she will continue many of the Democrat's policies.
Senate races remain tight
While her supporters have rejoiced over Clinton's climbing poll numbers, down-ticket Democrats have not pulled away from their opponents in tight Senate races. While FiveThirtyEight gives Democrats a 61% chance of winning the Senate — Democrats need to pick up five seats to have outright control of the upper chamber — several races remain close.
Democrats in Illinois and Wisconsin are expected to beat their opponents. Polling shows Senate races have tightened or now favor Republicans in New Hampshire, Nevada, North Carolina and Pennsylvania, . Meanwhile, incumbent Republicans John McCain in Arizona, Marco Rubio in Florida and Rob Portman in Ohio are poised to easily win reelection.
The takeaway: Polls continue to bring good news for Clinton. But it is far from certain she will be working with a Senate -- let alone a House -- led by like-minded politicians. — Will Drabold
On Wednesday, Oct. 5, here is how voters feel about the state of the presidential race.
Swing states like Clinton
A new North Carolina poll that shows Hillary Clinton up by two percentage points continues a three-day flood of positive swing state surveys for the Democrat. Clinton's consistent polling success in North Carolina is a firewall against a possible Trump victory in Ohio — a state every president has won since 1964.
For Donald Trump, the last three days have seen only one state poll swing in his favor: A Quinnipiac survey that gives him a five point lead in Ohio. But his declines elsewhere are so substantial that taking Ohio may not mean winning the White House.
In Colorado, Florida, Pennsylvania, Clinton leads Trump by nearly three percentage points or more. In Nevada and North Carolina, the Democrat edges the Republican. And nationally, Clinton continues to increase her lead — again, she leads by more than three points, according to RealClearPolitics.
For a brief time, it seemed the electoral map might shift in Trump's favor. But after his presidential debate performance drew poor reviews from voters and he went on a spree of scandalous comments, the Republican is back under his ceiling of 41% support in the four-way race.
Pence edges Kaine in VP debate
Do not expect Tuesday night's vice presidential debate to affect the presidential race. While 2016 has defied many conventional rules of politics, it stands to reason the focus on the presidential candidates is what matters to voters — not opinions of Mike Pence or Tim Kaine. As the Los Angeles Times noted, a win for a vice presidential candidate has not often benefited the top of the ticket.
With that said, going into the debate, voters had an almost equally net-positive view of both vice presidential candidates.
That may change going forward. Kaine interrupted Pence dozens of times — just like Trump interrupted Clinton during the presidential debate — and the Republican benefitted from voters' distaste for it.
And overall, VP debate viewers seemed to give Pence a narrow win. But without definitive polling, we won't know how voter impressions changed or if the debate affected the race for several days. And by then, it will be time for the next presidential face-off.
The takeaway: The VP debate is not likely to move the needle, though it could change voter impressions of Kaine and Pence. This matters especially for the Republican, who many believe has positioned himself to run for president in 2020 if Trump loses. As for the Republican presidential nominee, he must look forward to this Sunday night to redeem himself on the debate stage. The town-hall style event will be one of Trump's last chances to connect with a large percentage of likely voters. — Will Drabold
On Tuesday, Oct. 4, here is how voters feel about the state of the presidential race.
Clinton's post-debate surge
The post-debate polls we've been waiting for have finally arrived. And Hillary Clinton is likely quite pleased.
In the four-way presidential race, Clinton's lead over Donald Trump has jumped to four percentage points. She led by more than a point going into last week's presidential debate. Five national polls released Monday and Tuesday showed Clinton with at least a three-point lead.
Various election forecasts drastically increased Clinton's chances of victory next month with the new poll numbers. If the election were held today, FiveThirtyEight gives Clinton a 79% chance of victory.
Source: Giphy
Trump's swing state struggles
Before last week's debate, some polls showed Trump leading in key battlegrounds. Not anymore. New polls give Clinton large leads in Colorado, Florida, Pennsylvania and Virginia. Clinton is edging ahead of Trump in North Carolina. Trump continues to lead in Ohio, though the perennial swing state may not be as crucial for the Democrat in 2016 given the fact North Carolina and other traditionally Republican states are in play.
A loss for Trump in Florida, Ohio or North Carolina would likely doom his White House bid.
Deeper insight from polls
The latest polls not only confirm Clinton has solidified her once-wobbling lead. They show she clearly won the debate.
A CBS News poll released Monday evening found 32% of voters think better of Clinton after the debate, while only 10% thought better of Trump. And a CNN/ORC poll found Clinton has gained on Trump among independents and white men. The latter now only support Trump by a five-point margin. In early September, the margin was 22 points.
The takeaway: Clinton's strong debate performance has translated into a polling bump. It is too soon to say whether her jump in support will last. But with voter perceptions of Trump trending negative after the first debate, pressure will be on Indiana Gov. and GOP vice presidential candidate Mike Pence to make a positive impression on voters in tonight's VP debate. — Will Drabold
On Monday, Oct. 3, here is how voters feel about the state of the presidential race.
A week after the first debate, Clinton's lead has (probably) risen
Most top pollsters have yet to release polls a week after the first presidential debate. But several state polls and some national surveys indicate a post-debate bump for Hillary Clinton.
Clinton led Donald Trump by 1.6 percentage points in the RealClearPolitics poll tracker the day of the debate. A week later, she leads the Republican by 2.5 points. This week, new national polls are expected to solidify the narrative that Clinton has widened the gap over Trump.
A Monday Politico/Morning Consult poll had Clinton up 6 points nationally. At FiveThirtyEight, Nate Silver noted post-debate polls show Clinton up an average of 4 percentage points. "Her lead over Trump nationally could eventually turn out to be more like 5 points than 3 points as more data comes in," Silver wrote Friday.
Favorable state surveys
Though the national picture is still a bit grainy, state polls have been favorable to Clinton since the day after the presidential debate. Clinton had led in every swing state poll released since Tuesday. On Monday, a new poll in Virginia put Clinton up 7 points in a five-way race.
While Trump leads in Ohio — which hasn't seen a poll released since the debate — Clinton has retaken the lead in Florida. Trump must win two of those three to have a shot at the White House. And in polls last week, other important states for Trump like Nevada, New Hampshire and Michigan were trending favorably for Clinton. — Will Drabold
On Sunday, Oct. 2, here is how voters feel about the presidential race:
No major national polls yet, but one poll reaffirms Clinton won the debate
There still aren't any major new post-Sept. 26 polls out, but an ABC News/Washington Post poll released Sunday, which merely tracked respondents' perceptions of the candidates, shows Donald Trump's debate performance is likely to produce a small bump for Hillary Clinton:
Trump was deemed "unfavorable" by 64% of those surveyed, a 5% gain compared to polls conducted prior to the debate; Clinton's "unfavorable" ratings were 53%, a 2% decrease. Further, Clinton's "favorable" rating increased by 4% to 45%; Trump's "favorable" rating fell 1% to 34%.
More poll results are expected to surface in the coming days.
On Saturday, Oct. 1, here is how voters feel about the presidential race.
Outlook still hazy, but probably bad, for Trump
There has been no change in an average of polls kept by Real Clear Politics since Friday, with Hillary Clinton maintaining a slight lead over Donald Trump at 43.8% support nationally to the real-estate billionaire's 40.9%. Third-party candidates Gary Johnson and Jill Stein remained at 7.3% and 2.4% nationally.
That means we're still waiting for the release of the big national polls, but Friday polls in Florida, Michigan and New Hampshire all showed Clinton with moderate to big leads.
FiveThirtyEight gets bullish on Clinton ...
Polling aggregator and analytics site FiveThirtyEight, which showed Trump closing to 45.2% in their polls-only forecast and 45.4% in a model incorporating economic and historic data on Sept. 26, the night of the debate, has significantly downgraded his odds since then.
As of Saturday, FiveThirtyEight's model shows Trump back down to 32.7% in the polls-only forecast and 34.8% in their polls-plus counterpart, both two-figure declines which have resulted in the site putting Clinton's odds at over 65% in both models. On Friday afternoon, FiveThirtyEight founder Nate Silver wrote initial data seemed likely to indicate Clinton's lead in national polls may expand to 5% in the wake of the debate.
... and Republicans are getting bullish on blaming voter fraud
On Friday night, Trump spoke at a rally in Novi, Michigan, emphasizing the need for his supporters to travel to other polling precincts and monitor the polls for fraudulent tactics by team Clinton (actual voting fraud is very rare, but Trump has turned to "increasingly urgent and racially suggestive language" to push the notion, the New York Times reported in August).
The idea something will be fishy about this election come Nov. 8 has rung true with many in the GOP, according to an AP-NORC poll released Saturday. Just one-third of Republicans said they have "a great deal or quite a bit of confidence" that elections this year will be fair, with about half of those who expressed a favorable opinion of Trump saying they "have little to no confidence in the integrity of the vote count." Roughly half of Republicans also believed there is a great amount of fraud in U.S. elections.
— Tom McKay
Mic has ongoing presidential election coverage. Please follow our main election hub as well as coverage of Donald Trump and Hillary Clinton.
____________________________________________________________
On Friday, Sept. 30, here is how voters feel about the presidential race.
Post-debate polls
Since the second the Sept. 26 debate ended, millions of people have wondered if the way Donald Trump and Hillary Clinton performed will affect their standing in the polls. We finally have some results. 
Three new state-level polls released Friday show Clinton with leads in Florida, Michigan and New Hampshire. Each poll was conducted after Monday's debate. 
This weekend should see the release of new national polls that show how voters did or didn't move after the debate. We know from specific polls of debate viewers that a majority of voters believe Clinton beat Trump.
Here's how to sound smart about the state of the election at a dinner party
"Did you see the latest poll out of Michigan? Clinton is up seven points! Trump's bet on the heart of American manufacturing feels like even more of a long shot." 
The national polls in one chart
Here's a straightforward look at the state of the four-way race. Notice how Gary Johnson and Jill Stein have begun to trend downward. Overall, Clinton maintains a slight lead over Trump. 
Our polling update methodology
Your feed is flooded each morning with new polls. All too often, these stories lack context.
We will tell you what these surveys mean, what experts say about them, how much you should care and what you should look for next. We will also share Mic stories to help you better understand shifts in polling.  
Mic has ongoing presidential election coverage. Please follow our main election hub as well as coverage of Donald Trump and Hillary Clinton.
_____________________________________________________________
Here was how voters felt about the presidential race on Thursday, Sept. 29.
Polls conducted just before and after Monday's presidential debate continue to show a tight race between Donald Trump and Hillary Clinton. But each passing day since the debate seems to bring better news for the Democratic nominee. 
Public Policy Polling released new poll results Wednesday that gave Clinton a four-point lead over Trump in head-to-head and four-way match-ups. A Thursday Rasmussen Reports survey gives Clinton a one-point lead in the four-way race with Gary Johnson and Jill Stein included. And the Los Angeles Times/USC tracking poll continues to give Trump a four-point lead nationally. 
We noted yesterday that support for the two third-party candidates seems to be trending downward. Meanwhile, for the first time in the four-way race, Trump's numbers have punched through his polling ceiling, which sat at about 41%. Yet Clinton has also seen increased support since her mid-September slump. She now leads Trump by about three points, and has regained the level of support she had back in early August, at which time she led Trump by more than seven points. 
With the incorporation of new polls that show Clinton leading, FiveThirtyEight has pushed Clinton's chances of winning the election back above 60%.
What we're waiting on
Thursday saw the release of new state polls for Missouri and South Carolina, two states that have trended Republican in recent elections (although the South Carolina poll gave Trump only a four-point lead). It goes without saying Trump's election is all but doomed if he cannot hold those traditionally conservative states.
Surveys of voter support in specific states still show an electoral map without any post-debate polling. Pre-debate polling showed Trump winning Ohio, Nevada, North Carolina and essentially tying with Clinton in Florida. But Trump's debate performance appears to have spooked undecided voters in North Carolina and elsewhere. And national polling has yet to fully move past the debate.
The takeaway
New polls with entirely post-debate data are expected to be released in the next few days, at which point whether or not Clinton saw a substantial bump from a debate most voters believe she won will become clear. Stay tuned. 
Correction: Oct. 3, 2016