'Adventure Time' will end in 2018 — Here's what's left of the beloved animated series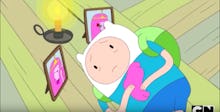 Viewers have a set amount of time left in the mystical Land of Ooo — Cartoon Network announced Thursday that Adventure Time will end in 2018. According to the Hollywood Reporter, the series' ninth season, which is currently in production, will be the show's last. 
However, the show will ultimately come to an end in 2018 after a handful of miniseries and episodic specials, totaling "142 half-hours of content."  
For fans, Adventure Time is more than just a whimsical adventure with stunning animation. The Emmy-winning series created by Pendleton Ward hits a subtle, mature tone: It's implied that Ooo is a world created in the aftermath of a nuclear war, and viewers are seeing at the remnants of society through the lens of Finn and his talking dog, Jake. 
This mature tone is embodied in other Cartoon Network series with similar themes like Steven Universe and Regular Show, the latter of which will also be ending after its eighth season. In the meantime, however, fans can enjoy a couple more years before we bid adieu to Ooo. 
Ward is grateful for the warm response the show's received during its run.  "Adventure Time was a passion project for the people on the crew who poured their heart into the art and stories," Ward told the Hollywood Reporter. "We tried to put into every episode something genuine and telling from our lives, and make a show that was personal to us, and that had jokes too! I'm really happy that it connected with an audience for so long. It's a special thing, I think."
Meanwhile, Adventure Time fans on Twitter shared their grief for the show's impending end.