North Carolina gun rights group raffles off AR-15 rifle and photo of Hillary Clinton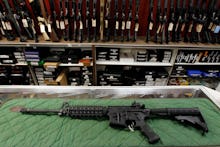 A gun rights group in North Carolina is raffling off an AR-15 rifle that comes with a photograph of Hillary Clinton that is "very popular at the range," calling the raffle the "Hillary Clinton Special," CBS News reported Thursday.
"We all know that if Hillary Clinton is elected president on November 8, panic buying will ensure that by November 9, there won't be a gun (or ammunition) available for love nor money," Grass Roots North Carolina, which lobbies for pro-gun laws and is holding the raffle, wrote on its website.
The raffle winner will receive the AR-15, 1,000 rounds of ammunition and the portrait of Clinton.
"Of course, we won't tell you what to do with the photo, but when we ran a picture of Hillary on the front of our newsletter, we heard it was very popular at the range," the group wrote.
The groups states proceeds from the raffle will go toward spending against North Carolina Democratic candidates, such as gubernatorial nominee Roy Cooper and Senate nominee Deborah Ross.
The raffle comes amid occasionally violent rhetoric geared toward Clinton in the 2016 campaign.
Donald Trump has twice made veiled incitements against Clinton, first suggesting "Second Amendment people" could do something to thwart Clinton from making Supreme Court appointments if she is elected president, as well as saying Clinton's Secret Service agents should be disarmed and "we'll see what happens to her."