What caused the New Jersey train crash? Latest updates on Hoboken station collision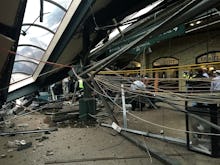 More details are emerging about the cause of Thursday's deadly train crash in a Hoboken, New Jersey, train station that left at least one dead and dozens more injured. On Thursday morning, NJ Transit train 1614 on the Pascack Valley Line from Spring Valley, carrying 250 passengers, plowed into the Hoboken station, just across the Hudson River from New York City. 
The train reportedly crashed through the bumper at the end of the track, straight into a covered waiting area between the platform and the station.
The crash caused structural damage to the terminal itself, and injured passengers on the train as well as those waiting inside the terminal. A passenger riding in the first car of the train, Jamie Weatherhead-Sal, told NBC 4 New York the train "just felt like it never stopped. It didn't slow down. It didn't brake."
Kim Marino, a commuter who was on the platform, described the scene to Mic. "The entire train was like, through the building; the ceiling was cracked," she said.
"People were bleeding and screaming and crying," Marino continued. "It was like, out of a movie. It was crazy." 
Preliminary reports from officials indicated the crash is not suspected to be terrorism. According to CNBC, the National Transportation Safety Board will take the lead in investigating the crash. During a press conference on Thursday afternoon, New Jersey Gov. Chris Christie said he would not speculate on the cause of the crash, and that the investigation is ongoing.
"We don't know why [the crash] happened," added New York Gov. Andrew Cuomo. "The NTSB will do a full investigation into what happened and we'll let the facts speak for themselves." 
Cuomo later said there is no use in speculating on the circumstances behind the crash, including whether or not there was a "medical condition" involved, until the investigation is complete.
"We don't know a lot about why it happened, the engineer is fully cooperating with the investigation," Christie said at Thursday's press conference. "The one thing ... that we know, is the train came in at much too high a speed ... It's not appropriate of us to comment beyond that at this time. Let's let law enforcement do their job."
Bob Chipkevich, the former head of the NTSB's train crash investigations section, said the agency would be investigating how fast the train was going when it approached the station, and then during the crash, NBC 4 New York reported.
Reports also suggest train 1614 was not equipped with positive train control, a technology designed to automatically stop trains. In 2008, Congress passed a mandate requiring railroads to install PTC technology across the U.S. by 2015 — but the deadline was later extended to 2018.