Mike Pence and the Indiana religious freedom law: Here's what you need to know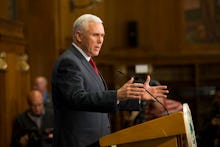 More than a year before Donald Trump tapped Mike Pence as his vice presidential running mate, the Indiana governor burst onto the national scene when he signed his state's Religious Freedom Restoration Act.
The legislation was billed by supporters as a measure to protect a person's ability to exercise their religion, but many critics saw it as permission to use religion to discriminate, particularly against LGBTQ people.
What supporters say about Indiana's religious freedom law
"This bill is not about discrimination, and if I thought it legalized discrimination I would have vetoed it," Pence said at the time, according to the Indianapolis Star.
The law was instrumental in protecting the rights of a Sikh man who wanted to wear his turban in the U.S. Army and in the ruling in favor of Hobby Lobby, a national craft store that refused to provide insurance coverage for contraception.
Twenty-one states have similar religious freedom legislation, according to the National Conference on State Legislators. The law is modeled after a federal law passed by President Bill Clinton in 1993.
What critics say about Indiana's religious freedom law
The pressure from critics and civil rights activists mounted. Many other cities and businesses began to boycott the state of Indiana. Arizona Gov. Jan Brewer vetoed a similar bill in her state, telling reporters it "has the potential to create more problems than it purports to solve."
"Religious freedom will be undermined only if we continue to tolerate and enable abuses in its name," wrote Louise Melling, American Civil Liberties Union deputy legal director, in a op-ed for the Washington Post.  
Even the White House weighed in.
White House Press Secretary Josh Earnest told reporters at a briefing it was wrong to compare the Indiana law with the 1993 federal law because it's "a much more open-ended piece of legislation that could reasonably be used to try to justify discriminating against somebody because of who they love."
Among the fiercest critics of the law were members of the business community, triggering fears of negative economic consequences.
The fix
Soon after, the Indiana bill was amended to include language prohibiting business owners from refusing to "provide services, facilities, use of any public accommodations, goods, employment, or housing to any member or members of the general public on the basis of race, color, religion, ancestry, age, national origin, disability, sex, sexual orientation, gender identity, or United States military service."
But Indiana still lacks a comprehensive law protecting LGBTQ people from discrimination.
Mic has ongoing presidential coverage. Please follow our main election hub as well as coverage of Donald Trump and Hillary Clinton.