Galaxy S8 rumors: Leak reveals possible specs for Samsung's next device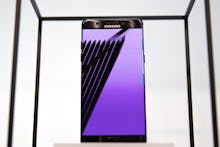 In the fast-paced world of consumer tech, companies are working around the clock on the next big product. In Samsung's case, it's looking to quickly move on to new projects following the exploding Galaxy Note 7 debacle that's dominated headlines over the past month. The Samsung Galaxy S8 could very well be the device that wins back consumers. 
A recent report from Forbes details a new "leak" of specs for Samsung's flagship smartphone. The device will supposedly ship with "one of the most powerful graphics chips on the market," the ARM Mali-G71, which could be paired with a 4K resolution screen and an octa-core SnapDragon processor. If these rumors are true, the Galaxy S8 would flaunt stunning visual capabilities which could be hand-crafted for Samsung's "secret weapon": virtual reality. 
Samsung is already trying to make virtual reality a more affordable technology for middle class consumers. That was reflected in the company's decision to include a free Gear VR device with the Samsung Galaxy S7 and S7 Edge for two weeks after their release. The goggles, designed in collaboration with high-profile VR firm Oculus, can still be purchased from retailers for under $100. 
The alleged specs of the Galaxy S8 suggest Samsung is going all-in on virtual reality. The technology may just be innovative enough to sway customers to trust in Samsung again following a series of bad PR. We'll have to wait and see what happens.