'The Late Show' bandleader Jon Batiste has an important, star-studded PSA for white people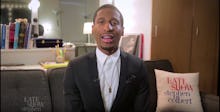 You may be familiar with Jon Batiste as the bandleader of The Late Show — plus occasionally the hype man for host Stephen Colbert's opening monologues. But the musician has another passion he's been wanting to share: healing the racial divide in the United States. 
With the help of black celebrities (and John Oliver), Batiste unveiled on The Late Show Wednesday his new PSA: "Hey White People!" 
"Here in America, it can be difficult to talk about race," Batiste opens. "There are a number of reasons why, but mostly, it's slavery." 
Then, celebrities such as Kevin Hart, Tituss Burgess, Gayle King and Samuel L. Jackson voice their complaints about the things white people do that can be really annoying — like avoiding the word "racist" and emphasizing the "dark" in "tall, dark and handsome." Also, as Anthony Anderson points out, white people have got to stop walking barefoot in New York City. 
Oliver swoops in with a symbolic pat on the back for white people, as "we had a good run," despite what the other celebrities might be insinuating. 
Watch Batiste's PSA below: