Tim Burton's film 'Miss Peregrine' is not very diverse, and here's his weird justification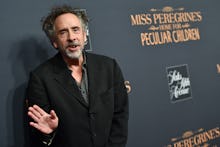 Tim Burton's films are known for being quirky and colorful, but it's the lack of color in his new film, Miss Peregrine's Home for Peculiar Children, that has people talking.
In an interview with Bustle, the famed director and animator responded to claims his movie's large ensemble cast was not very diverse, the only major character who isn't white is played by Hollywood mainstay Samuel L. Jackson.
"Nowadays, people are talking about it more," Burton said of onscreen diversity, but "things either call for things, or they don't." 
He continued, "I remember back when I was a child watching The Brady Bunch, and they started to get all politically correct, like, OK, let's have an Asian child and a black — I used to get more offended by that than just — I grew up watching Blaxploitation movies, right? And I said, that's great. I didn't go like, OK, there should be more white people in these movies."
Burton's answer is as all-over-the-place and colorful as any of his films, but at its core, it belies a major problem with diversity of Hollywood. Specifically, if big-name directors like him are unwilling to actively advocate for more diverse casts, how can we expect people of color to get work in the industry?
This issue is well-documented. A recent study published by the University of Southern California's Annenberg School for Communication and Journalism found that only 28.3% of characters who had speaking roles in mainstream American films released between September 2014 and August 2015 were played by non-white actors.
And, as Viola Davis put it at the 2015 Emmy Awards: "The only thing that separates women of color from anyone else is opportunity." 
What's more, it may seem Burton is implying The Brady Bunch once switched out Marcia or Jan for a child of color, but he's actually referring to a famous "very special episode" of the series called "Kelly's Kids," in which a neighboring family deals with a racist neighbor while deciding whether to adopt a non-white child. 
To Burton's point about Blaxploitation films, this black-focused action genre proliferated in the 1970s expressly because black people yearned to see themselves represented on screen, but were often denied those opportunities by mainstream Hollywood. They didn't need to cast white actors in them — white actors had all the opportunities they needed.
Actor Samuel L. Jackson, meanwhile, didn't see any problem with the lack of diversity in Burton's film. 
"I had to go back in my head and go, how many black characters have been in Tim Burton movies?" Jackson told Bustle. "And I may have been the first, I don't know, or the most prominent in that particular way, but it happens the way it happens. I don't think it's any fault of his or his method of storytelling, it's just how it's played out." 
Jackson added, "Tim's a really great guy."