In North Carolina, body camera footage is no longer public information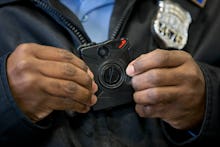 It's been only a week since police in North Carolina released graphic dashcam video showing the shooting of unarmed black man Keith Scott on Sept. 20, which sparked protests from Black Lives Matter activists nationwide.
"Dashboard cameras and body cameras can be very helpful, but when used by itself technology can also mislead and misinform, which causes other issues and problems within our community," Gov. Pat McCrory said in July when he signed the bill.
Critics, however, say that the law puts footage behind too high a wall, and that police can only be held accountable with liberal policies about the retention and release of footage. Across the country, tens of millions of dollars are committed every year to giving police body cameras. But states and police districts vary widely when it comes to dealing with the resulting footage.
A policy scorecard from The Leadership Conference, a coalition of civil rights groups, and Upturn Agency found every major metropolitan police department in the country lacking clear guidelines for body cameras, especially when it came to the public's ability to get ahold of the footage. The scorecard looks at issues such as whether officers have too much control over when to record and when not to and if departments have rules against accessing and tampering with the resulting footage. One item on the scorecard is simply whether or not the department lists its policy in a public place.
There are 19 states with body camera footage laws so far, and the rules are all over the map. In stark contrast to North Carolina, New Hampshire law says that all footage of contentious encounters with police can be obtained through a public records request. The footage also has to be kept on file for three years. Washington state has elaborate restrictions on what kind of footage is shielded from records requests — videos of minors or dead bodies, for example — and only requires footage to be held for 60 days.
Out of all major U.S. cities, only Chicago, Cincinnati, Washington D.C. and Las Vegas have laws that allow anyone making a complaint against an officer to have access to relevant body camera footage.
When police departments don't have state law to govern their shiny new technologies, they tend to improvise, giving police chiefs the final say on whether to release footage. Often, that means suspects and the public can only obtain footage after a federal judge intervenes, as was the case in a shooting in Gardena, California, where police shot Diaz Zeferino eight times as he took off a baseball cap. A judge stepped in to unseal the footage after local media sued the city to access the tapes.
Sometimes, public outcry pressures police chiefs to act. The Charlotte-Mecklenburg Police Department only released the footage of the Keith Scott shooting after a storm of national outrage turned every eye on Charlotte, North Carolina, and created the necessary pressure.
Legal scholars and legislators are still trying to justify why departments should treat videos as any different than other records, like police reports and court documents, which are broadly available to the public.
"It's just not clear to me why this category of video footage is so different than everything else that is created by public employees — that it needs to be treated in this really unique way that makes it really hard for the public to get access to it," Elon University law professor Michael Rich told Pacific Standard.
There are plenty of legitimate privacy concerns for body cam footage, and justified reasons for redacting or withholding footage from the public. For instance, since the 1990s resource officers have been brought in to arbitrate conflicts in K-12 schools — in part as a response to school shootings. Parents and schools, particularly in the case of special needs students, hope that body cameras will keep tabs on in-school officers and encourage them to act with restraint. But parents in these schools aren't so sure they want a database of footage with their child's likeness and behavior ready for public consumption.
Some police — and lawmakers like Gov. McCrory — argue that the public has the most to lose by having footage of their most volatile police encounters up for public consumption and scrutiny. If those sounds like crocodile tears, consider the case of a man in Spokane, Washington, who threatened to sue the police after the department posted body camera footage of his arrest to its Facebook page, resulting in an embarrassing viral video in which the visibly intoxicated man berates the officer, slaps at his hands and is eventually arrested.
When police in Charlotte first refused to release the body camera footage, Police Chief Kerr Putney claimed that it was in Keith Scott's best interest for it to remain private.
"Transparency is in the eye of the beholder," Putney said at a press conference before releasing the footage. "If you think I say we should display a victim's worst day for public consumption, that is not the transparency I'm speaking of."
One policy frequently lacking from police departments is a guideline about officers having prior access to footage. There isn't a single policy in the nation that compels officers to write police reports before viewing body camera footage. If a suspected criminal has only their memory to rely on, but an officer can consult the recorded footage of an incident, officers will appear to have a better recollection of an incident, and will seem more trustworthy — either when speaking to the public or in court.
"Transparency is in the eye of the beholder."
"The effect of this is that officer reports or statements always seem more credible or accurate than other witness statements," Harlan Yu, a researcher who helped create the policy scorecard, told Mic.
Every single department on the scorecard also neglected to have a policy preventing the use of of footage in "biometrics," or surveillance tools that identify subjects by your bodily characteristics, including your face, retinas and even your gait. The FBI is currently experimenting with building a database that could automatically scan and analyze tattoos. With companies like Google and Facebook investing in artificial intelligence to classify the contents of a video, the growing concern is that body camera footage becomes a bigger opportunity for public surveillance than for police accountability.
The potential for body camera footage to be used as a tool against civilians more easily than a tool for officer accountability is what's at stake when it comes to setting up rules that work. Why should millions in American tax dollars go to putting the watchful eye of a camera lens on police officers if all that footage is protected from the watchful eye of the American public?
"It's not obvious how body cams will produce accountability for departments," Yu said. "Without strong policies in place, body cams aren't going to deliver on promises that they're originally set up to provide."