The 'Luke Cage' opening credits are a stunning love letter to Harlem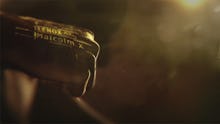 Luke Cage is continuing the tradition of Marvel's Netflix original series owning stunning opening title sequences, as the streaming service's latest superhero series released its credits online ahead of Friday's premiere. 
Just as Jessica Jones' title sequence embodied the show's crime-noir aesthetic, and Daredevil's bloody interpretation of Hell's Kitchen, Luke Cage's focuses on the heart of the storyline: Harlem and the show's celebration of black culture. This is particularly resonant, given Cage is Marvel's first series with a black superhero lead. 
With the titular Cage's body as the backdrop, the credits parse through iconic areas of Harlem: The Apollo Theater, Malcolm X Boulevard and a handful of MTA lines in the borough, coupled with a funky score. 
Finally, Cage literally punches through the credits to reveal the striking, yellow logo. We dig it. 
You can check out the opening credits for Luke Cage — which will be available in its entirety on Netflix Friday — per the show's Twitter account below.