Donald Trump encourages supporters to watch polls on Election Day at Pennsylvania rally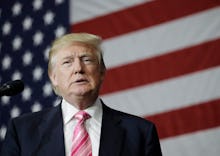 Once again, Donald Trump is marshaling his forces to march on his opponent, encouraging them to watch the polls on Election Day, and "watch carefully."
Trump issued the instructions at a Saturday evening rally in Manheim, Pennsylvania. As the Washington Post reported, the Republican nominee ended a banner week — in which the he threw an early-morning Twitter tantrum, was called out by a national paper of record for his alleged 18-year-long failure to pay federal taxes, had a spotlight shown on his shady Cuba dealings and lost the first presidential debate — by going "off script" and off the rails. 
He was supposed to "deliver a nine-sentence critique" of months-old comments by his opponent, Hillary Clinton, according to the Post. Instead, he delivered over 20 minutes of back-to-back mini rants, encouraging those assembled at the rally — who, according to the Post, were mostly white — to stake out polling places on Election Day. 
You've gotta go out, and you've gotta get your friends, and you've gotta get everyone you know and you've gotta watch your polling booths, because I hear too many stories about Pennsylvania, certain areas. I hear too many bad stories and we can't lose an election because of you know what I'm talking about. So go and vote and go check out areas, because a lot of bad things happen and we don't wanna lose for that reason. We don't wanna lose, but we especially don't wanna lose for that reason. So go over and watch, and watch carefully. Because we're gonna win the state of Pennsylvania, and if we win Pennsylvania, we take back the White House.
Pennsylvania could indeed be decisive in the 2016 election, and it's not the only key state in which Trump has deployed this tactic. According to Politico, he has also encouraged voters in the swing state of Ohio to watch their local polling places. But, as Politico explained, voter surveillance has been a problem in Pennsylvania before, with Republican officials backing up ballot boxes in Pittsburgh as they questioned the eligibility of Democrats who showed up to vote in 2004. 
According to Politico, Trump's call for poll watching is more of a call for voter intimidation than anything else, and indeed, this is not the first time he has wielded his support base as a weapon with which to menace his opponent. In March, he actively considered paying the legal fees incurred by a man who, following Trump's instructions to knock out dissenters who attended his rallies, punched a protester and was subsequently charged with assault. 
Trump then tweeted at Bernie Sanders that he would send his [often violent] supporters to create mayhem at the Vermont senator's rallies, looking a lot like inciting violence. Over six months later, things look much the same.
Poll watching was one of many topics about which Trump raged on Saturday. In a surprising change of narrative, he touched on Clinton's lack of loyalty to her husband, whom the Republican candidate frequently lampoons for his history of infidelity. He also derided her as a "sarcastic woman," mocked her health and called her a criminal; he complained about his "bum mic" at Monday night's debate and his maybe mistaken choice to run for president over pursuing another season of his reality TV show, The Apprentice.