Everything you need to know about CBS News reporter Elaine Quijano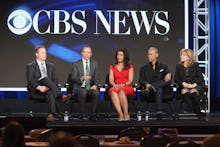 Elaine Quijano might not be a household name, but she's making headlines in this election for her upcoming role as moderator of the vice presidential debate.
The CBS News correspondent and anchor for CBSN, the station's 24-hour digital streaming channel, will be the first Asian-American to moderate a general election debate, according to news reports. She's also the first moderator from a digital network.
Quijano's background
Quijano, 42, is a Filipino-American from Chicago, Variety reports.
Here's an interview of Quijano talking about her career with the Filipinas in 2010.
Quijano joined CBS News in 2010. She's covered major news stories including the Sept. 11 attack, the Sandy Hook Elementary shooting, the Boston Marathon bombings, Hurricane Sandy and the 2014 World Cup in Brazil.
She also worked for CNN for many years in Washington, D.C., her official bio says.  Before that, she worked for WFTS-TV in Tampa, Fla., and WCIA-TV in Champaign, Ill. She has a degree in journalism from the University of Illinois at Urbana-Champaign.
The first and only vice presidential debate between Republican Mike Pence and Democrat Tim Kaine is on Tuesday night from 9 p.m. to 10:30 p.m. Eastern at Longwood University in Farmville, Virginia. 
It will be divided into nine segments of about 10 minutes each, according to the rules set out by the Commission on Presidential Debates. Quijano will ask an opening question, after which each candidate will have two minutes to respond.
Mic has ongoing presidential coverage. Please follow our main election hub as well as coverage of Donald Trump and Hillary Clinton.