VP debate 2016 live: Here's where to watch the Tim Kaine and Mike Pence debate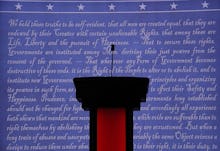 As Hillary Clinton and Donald Trump get ready to meet for their second presidential debate on Oct. 9, their running mates will square off in the first and only vice-presidential debate on Tuesday night.
Republican Mike Pence, the former governor of Indiana, and Democrat Tim Kaine, U.S. senator from Virginia, are set to go head-to-head from 9 p.m. to 10:30 p.m. Eastern at Longwood University in Virginia.
All of the major television networks will carry the debate live.
Facebook Live will broadcast streams of the debate from several media outlets, according to the Commission on Presidential Debates. And Snapchat will cover the debate via a "Live Story."
You can also watch live streams on these websites: ABC News, Buzzfeed, CBS News, CNN, C-SPAN, The Daily Caller, Facebook, Fox News, Hulu, Huffington Post, NBC, PBS, Politico, Telemundo, the Wall Street Journal, Twitter, Univision, Yahoo and on YouTube.
The debate will be moderated by CBS News correspondent and anchor for CBSN, the station's 24-hour digital streaming channel, Elaine Quijano. Of Filipino descent, Quijano will be the first Asian-American to moderate a general election debate.
The debate will be divided into nine segments of about 10 minutes each, according to the rules set out by the Commission on Presidential Debates. Quijano will ask an opening question, after which each candidate will have two minutes to respond.
Mic has ongoing presidential coverage. Please follow our main election hub as well as coverage of Donald Trump and Hillary Clinton.