Solange Knowles drops her 21-track epic 'A Seat At the Table.' Here's how to listen.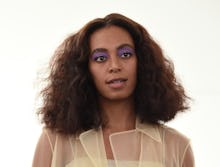 When it's all said and done, 2016 may go down as the year the Knowles sisters transcended pop and became legend. Thursday, just before midnight, Solange Knowles, Beyoncé's younger sister, released her third studio LP, A Seat At the Table, her first full-length in eight years, to ecstatic fanfare across the internet.
The album clocks in a little under an hour, spanning 21 tracks. Eight of them are under-a-minute interludes offering empowering messages ("I Got So Much Magic, You Can Have It") and snapshots of Knowles' childhood ("Tina Taught Me"). The album features contributions from rappers Lil Wayne and Q-Tip, R&B luminaries The-Dream, Kelly Rowland and BJ the Chicago Kid, and some of alt R&B's still-rising gems Kelela and Sampha, among others.
It's currently streaming via Apple Music, Spotify and Tidal and available to purchase on iTunes.
Solange's album caps a roll-out that was a far quieter, more intimate affair than her sister Beyoncé's Lemonade, which burst onto the internet after HBO aired her jaw-dropping visual album. Bey's release was a firey coup to Solange's calm dinner invitation. Solange announced the project Tuesday with a simple, personal tweet.
"I am overwhelmed with gratitude and excitement to share this work I've written and created, with you... #ASeatAtTheTable," she wrote. It came with a 112-page digital book, filled with playfully arranged lyrics and photography to give listeners the first taste of the aesthetic. The images showed Solange posing in both urban and wide natural spaces, both solo and in the company of other black women.
One of the pages includes the words "do you belong? I do," which appear in the title of a recent Saint Heron essay Solange wrote about the ways in which black women are made to feel unsafe in predominantly white spaces.
The album explores similar themes of black womanhood, with songs praising natural hair and exploring the feeling of moving through a world that values black art, but not black bodies. 
In response to a fan on a Twitter who asked how the album differs from her previous True, Solange wrote: "'True' was meant 2 provoke joy & to challenge what we know as pop #Aseatatthetable is meant to provoke healing & journey of self empowerment."
Listen below.