Filipino President Rodrigo Duterte compares himself to Adolf Hitler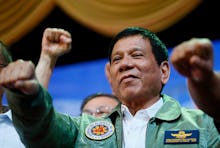 Thousands have been killed in the Philippines since President Rodrigo Duterte was sworn into office June 30 ready to wage war on the country's illegal drug trade. Speaking in his hometown of Davao City on Friday, Duterte said he'd like to kill millions of drug addicts — and likened himself to Nazi leader Adolf Hitler in the process.
"Hitler massacred three million Jews," Duterte said, according to CNN. "Now there is 3 million, what is it, 3 million drug addicts [in the Philippines], there are." 
As for what he'd like to do to those people, "I'd be happy to slaughter them," the president continued. "At least if Germany had Hitler, the Philippines would have [me]. You know my victims, I would like [them] to be all criminals, to finish the problem of my country and save the next generation from perdition."
Hitler's "Final Solution" led to the deaths of approximately 6 million Jewish men, women and children through gas chambers, shootings and other forms of execution.
Gruesome photos show the reality of Duterte's war on drugs. Bodies are left in the middle of the street, some topped with signs that say "pusher" or "drug lord." 
Disturbing data found Duterte's crackdown resulted in more than 2,000 deaths between July 1 and Aug. 20, Reuters reported on Aug. 30. Nearly 900 drug traffickers and users had been killed in police operations — an average of 20 killings a day. At the time, police were also investigating an additional 1,100 drug-related deaths that were not categorized as police stings. 
Duterte has responded to criticism of his deadly initiative by threatening to pull out of the United Nations. 
"I know the limits of the power and authority of the president," Duterte said in his inaugural address, according to the New York Times. "I know what is legal and what is not. My adherence to due process and the rule of law is uncompromising."