Donald Trump loves to call women ugly and weak, and his Twitter feed proves it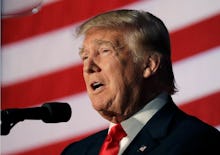 Donald Trump is once again under fire for misogynistic behavior, this time concerning former Miss Universe winner Alicia Machado.
Hillary Clinton brought up Machado at the first presidential debate on Monday as an example of Trump's penchant for sexism, reminding Americans of how Trump fat-shamed Machado after she won the Miss Universe pageant in 1996 by calling her "Miss Piggy" and forcing her to work out in front of television cameras to lose weight.
However, Trump's behavior toward Machado — whom he has continued to fat-shame and slut-shame in the days since the debate — is not a one-off.
It's indicative of a long-standing pattern of offensive comments Trump has made about women's looks and their character.
Mic combed through Trump's Twitter feed to find the most egregious instances of his sexist attacks. They provide a good look at Trump's treatment of women over the past few years — in addition to other sexist comments he's made in media appearances, such as the time he and radio shock jock Howard Stern discussed how "vagina is expensive" in 1997. 
Here's a running list of the women he's attacked on Twitter since 2012:
Huffington Post founder Arianna Huffington
Grammy, Emmy, Golden Globe and Academy Award-winner Cher
Emmy and Golden Globe-winner Sarah Jessica Parker
Tony, Emmy, Grammy, and Golden Globe-winner Bette Midler
Breast-feeding mothers
Comedian Rosie O'Donnell
Women serving in combat
Female Celebrity Apprentice contestants
Fox News anchor Megyn Kelly
Heidi Cruz, wife of Sen. Ted Cruz 
Pulitzer Prize-winning New York Times columnist Maureen Dowd
Morning Joe co-host Mika Brzezinski
And last but not least, Hillary Clinton