Wells Fargo faces $20M fine and $4M settlement for ripping off active duty service members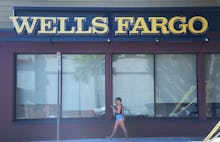 Sometimes companies really know how to add insult to injury: Like when Wells Fargo illegally repossesses your car right before you're deployed to Afghanistan — and then demands your family pay an additional $10,000.
Those and other alleged transgressions by Wells Fargo were the subject of discussion Thursday, as CEO-slash-Congressional-punching-bag John Stumpf yet again appeared before lawmakers to defend his company's banking practices. 
It didn't go well.
While the House Financial Services Committee spent four hours "questioning and castigating" Stumpf, as the New York Times put it, new damning reports emerged. The Justice Department announced that Wells Fargo would pay more than $4 million to compensate military customers from whom the bank illegally yanked more than 400 loaned cars. The bank will also face a $20 million fine by regulators for a "decade" of other transgressions against service members.
The $4 million settlement concludes an investigation the Justice Department started in March 2015 after allegations emerged that Wells Fargo broke federal law by repossessing cars from service members without a court order.
Per the settlement, affected customers will get $10,000 in restitution from the bank, plus any lost equity on the cars with interest.
As for that $20 million fine? Among others, one of Wells Fargo's alleged violations was ignoring a law that caps the amount of interest banks can charge members of the military on active duty. 
"In those instances where some service members did not receive the appropriate benefits and protections, we did not live up to our commitment and we apologize," the company said in a statement reported by the New York Times. 
Wells Fargo has big business working with the military, with branches on eight U.S. military bases.
"I led the company with courage," Stumpf said in Thursday's testimony before Congress.
Wells Fargo said in an emailed statement to Mic that further comments are pending.